Estimated reading time: 4 Minutes
This picture got your attention, didn't it? Well, that was exactly my intention. Further down the page, I posted another one for the ladies.
They say that you learn basic Spanish best with a native. I can only confirm that affirmation because that's what I did.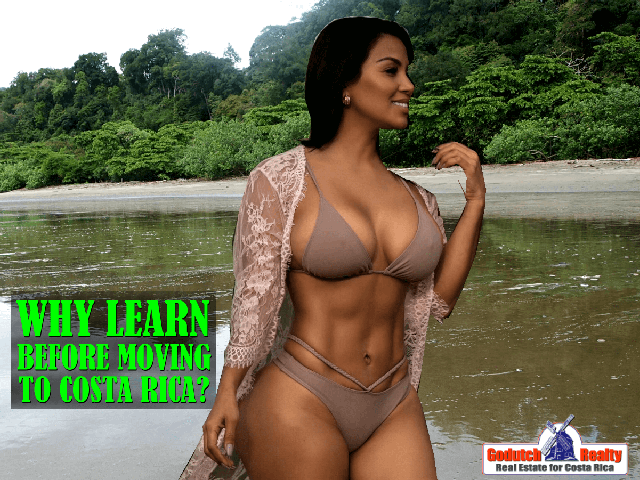 Most people don't pay attention when I tell them they should learn basic Spanish before moving to Costa Rica. They just answer yeah yeah, blah blah blah.
Imagine you get stopped in your home country by a Latin person who asks in Spanish where the grocery store is located. What would you say? Most would answer, "Why don't you learn English"? Am I right or not?
The other day I saw an expat in Escazu get mad at a Tico and shout at him in English. The poor sucker didn't know what the gringo was shouting at him. The Tico just turned around and walked away. This, in turn, made the gringo even madder. I enjoyed the scene watching from my car.
That gringo definitely did not learn basic Spanish before moving to Costa Rica. And he'll be pissed off at everyone and everyone until he decides to move back to where he came from. Or learns Spanish!
Tourist or resident
Like most places visited by tourists elsewhere, you can manage in most beach areas without learning one word of Spanish. But in the Central Valley, where tourism is not such an important industry, expats often expect the locals to speak English. Once you've moved here, you'll learn that many locals speak English, but they have no obligation unless you are a tourist.
I know expats who have lived here for many years, and they don't even try to speak Spanish. You can expect the waiter in a restaurant in Jaco Beach to speak English.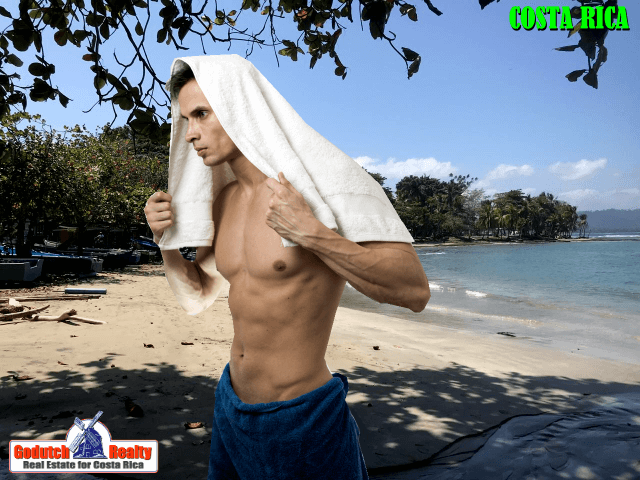 But when you go to the farmer's market in Atenas to buy fruits and vegetables or meat in the central market of Grecia, you need to speak Spanish, or at least try to.
If you are a resident, it is a matter of respecting the locals. Please, I beg you to learn basic Spanish before moving to Costa Rica. It also makes living in Costa Rica so much easier for you.
Kids and adults
Children learn a language in no time. I grew up with three languages, and learning the fourth was pretty easy. But learning a new language is not easy if you grow up with only English and you're over 50. You can start working on learning the basics before your move. Then, once you decide to become an expat and live here, you should spend more time on it.
Ticos are proud people who like it when you try to speak their language and show some respect. Sign language also helps a bit in getting things done.
Immersion and private classes
You will speak 365 words in one year if you learn one word daily. Please try!  I know many ex-pats who have lived in Costa Rica for years and don't speak 50 words of Spanish. It is all about making an effort. No need to become fluent if you move here and want to adjust to your new home country; you should also try to learn the language. Take private Spanish or immersion classes; at least learn the basics.
There are many language schools in Costa Rica and even more private teachers. Learning Spanish will help tremendously to get you going. A good friend who thought he would never learn went to Peru and lived with a Peruvian family for a month. Now he speaks very good Spanish, and the Ticos love him for it.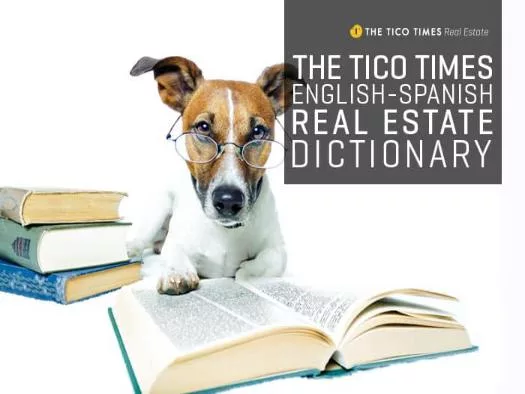 Real Estate Spanish
Practice your real estate Spanish with your GoDutch realtor; they are all fluent. But before you go at it, practice using the Tico Times real estate dictionary I published. Learning basic Spanish and buying a house from us is a great idea; we'll hold your hand through the process and way past it.
Practice the language
Shopping in Spanish is also a good start. Look at the labels and purchase locally-made groceries; it is much cheaper than North American products. Imported products pay a lot of import taxes. You should also try to speak Spanish with your housekeeper.
Don't try to teach your housekeeper English; there is no reason she should learn. First, learn basic Spanish as best as you can and then practice. You are a guest in a Spanish-spoken country, so adapt.
Used in Image by Freepik