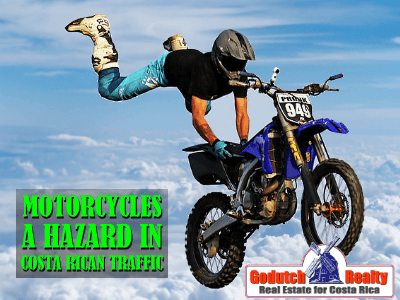 In Costa Rica, almost all motorcycles are dirt bikes. And they come out of nowhere in traffic.
Motorcycle riders in Costa Rica have no respect for traffic laws; double yellow lines and traffic lights are non-existent. They will get right in front of you at the traffic light, zigzag between cars, and use the sidewalks for shortcuts.
Driving in Costa Rica can be a challenge, just like it is in other Latin countries. If you have driven in France, Spain, Italy, Nigeria, Morocco or South Africa or in South Florida, then driving in Costa Rica is a piece of cake.
You just need to pay a little bit attention to what is going on around you, especially the motorcycles. So before you drive off, adjust all your mirrors to avoid blind spots. You'll be safe using your mirrors before making any turns.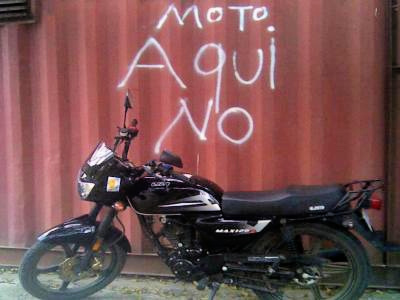 A motorbike is for transport, right? Of course, that doesn't necessarily mean the transportation of people, who said it does? In Costa Rica, a motorbike could be used for transportation of about anything that comes to mind. You can see in all the photos I'm posting in this blog. A picture is better than a thousand words.
Parking
Motorcycle riders usually think they can park their vehicle anywhere they want.  When you've parked your car and you want to drive away again, check there is no motorbike parked right behind yours and you will hit it when you hit reverse. See the photos below so you have an idea of how bad they park and don't pay attention to no-parking signs.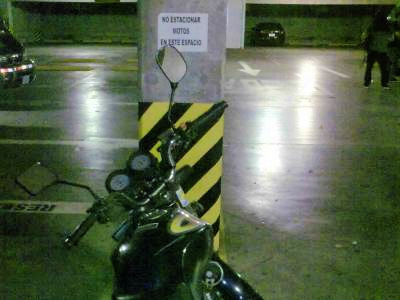 But if parking was the only problem, I wouldn't be writing this blog. While drivers in general in Costa Rica really don't mind breaking any traffic laws, motorcycle riders just don't have any respect for anybody or anything. They just do what suits them best and thanks to the Solo in Costa Rica Facebook I can show you best what I'm talking about.
Pedestrian Bridge
You probably know those pedestrian bridges over the freeways.  Pedestrians usually like to just walk across the freeway and even jump over the dividing walls and fences, because they think the pedestrian bridge is not safe, see why that is: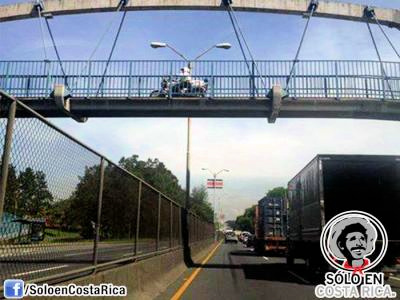 Livestock & Pets
Transporting livestock and pets on motorcycles is quite usual in Costa Rica. Luckily the dog is small enough and fits in the box.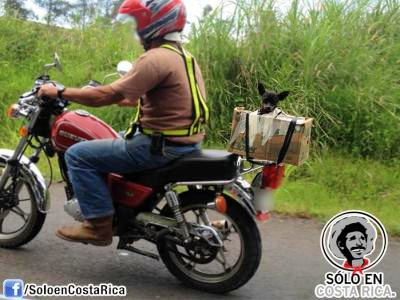 This one though did NOT fit in a box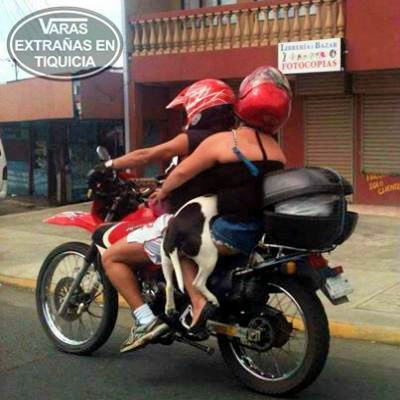 No worries, my goat is used to this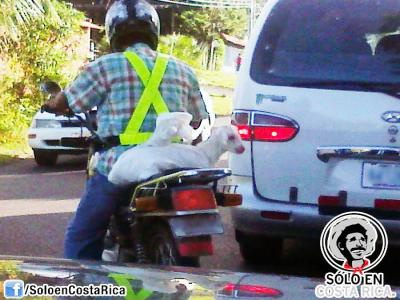 Warm Lunch
Do you like to heat your lunch on the way to work? Just stop anywhere and plug it in: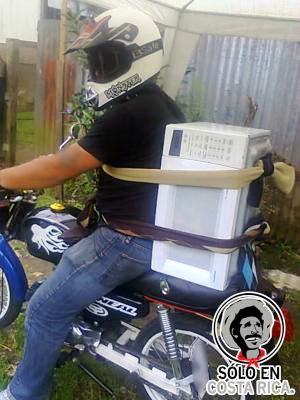 Christmas
It's Christmas again! Of course, you can fit the tree, the crib, and everything else in one trip.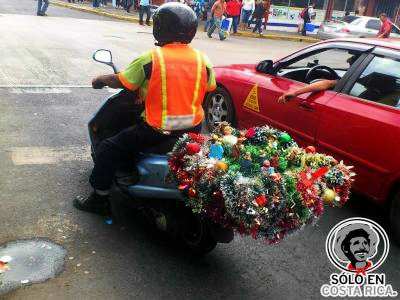 The Pole
Imagine a trailer coming by at 65 Mph. I really need that pole: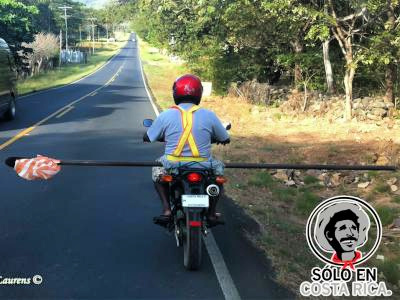 The Ladder
I really have to clean the gutters of my two-story house today: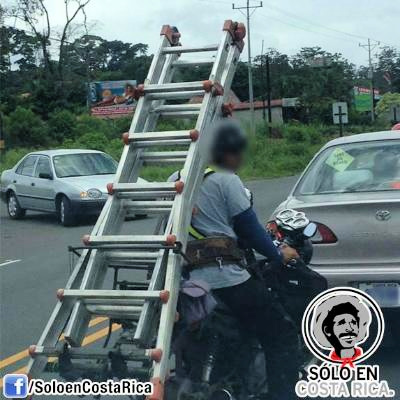 Double Bike
Of course, being taken home by your friend on a motorcycle is a lot easier than riding your bike in this hilly country, especially when you can use the whole lane for yourself: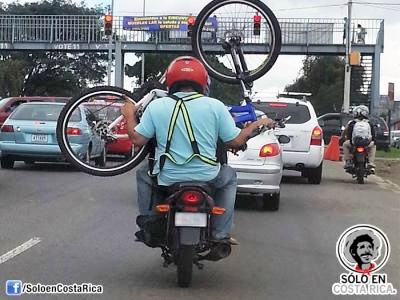 It's Superman
It's a bird, its a plane, its superman on a motorcycle: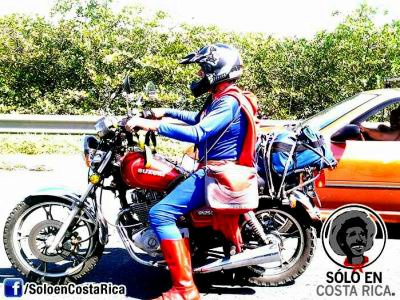 The Shark
Before we go to the beach, let's stop by the gas station for some air for the shark. Then we can hit the ocean as soon as we get there: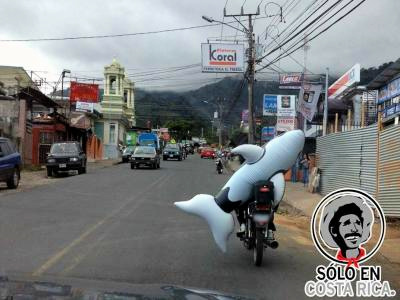 Snow Cones
I did a blog about copos or snow cones a while ago but it never occurred to me you can sell copos from the back of your motorbike so you don't need to push a cart. He even found a fine way for clients to wash their hands :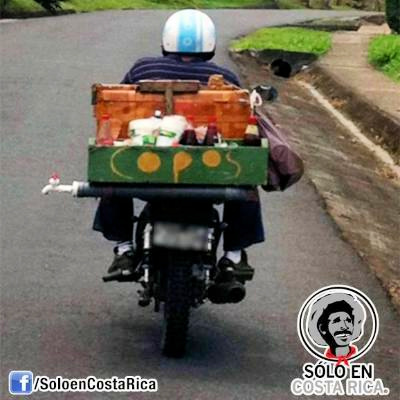 Small Bike
Age is not a problem in Costa Rica. Who says you have to be over 18 years old or over 6 feet to ride a motorbike and get gas?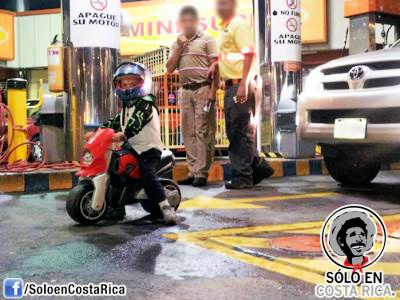 If you have enjoyed today's blog about motorcycles on the roads of Costa Rica, please leave a comment below.
Are you looking to purchase a home in Costa Rica or you know someone who does? Then click here to contact us now.
---
If you like this blog, subscribe to my newsletter by clicking the banner below.

I DO want to remind our readers that we appreciate any referrals you can send us. Also, please remember the GoDutch Realty agents when you talk about your home in Costa Rica, we appreciate it.