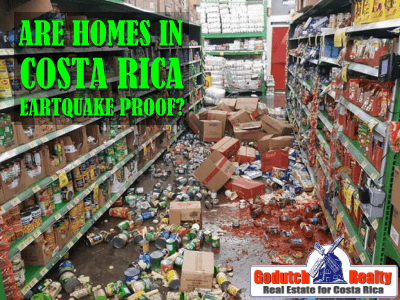 Are Costa Rica homes earthquake-proof? Should you be afraid the house will fall down on you during an earthquake?
It was September 5th, 2012 and a 7.6 on Richter hit us. That earthquake was now almost 3 years ago and has been on the news worldwide. A 7.6 on Richter doesn't happen very often. This was the 2nd strongest earthquake in Costa Rica's history after the 1991 earthquake in Limon.
This time, two people are known to have died, one from a heart attack and another, a construction worker, crushed by a collapsing wall. The 7.8 earthquake in Nepal on April 2015 killed more than 9,000 people and injured more than 23,000.
If you are afraid for earthquakes or if you have any doubt if Costa Rica homes can withstand heavy earthquakes, you need to read this blog and you'll see that Costa Rica homes are very safe to live in. In the 35 years, I have lived in Costa Rica this was the first one that was a bit scary and the fourth worth talking about. Earthquake in Spanish is "terremoto" although the locals usually talk about a temblor, which is much less strong than an earthquake.
Our agents Isabelle Jones and Rudy Matthews had just closed on a home in Atenas and the new owner had moved in the day before the earthquake. Your first quake is always an important one, especially if you've just moved into your new Costa Rica home.
The client emailed Rudy "Are you OK? That was a nice surprise this morning, huh? All sorts of things broke here in the house but it is still structurally sound, and the POOL IS TOO! (Wow!)"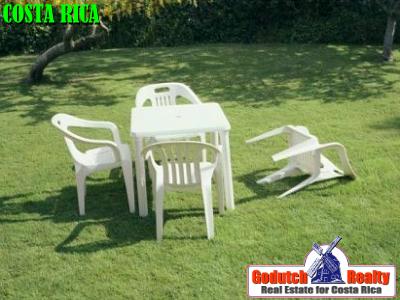 Garden furniture after an earthquake in Costa Rica
Rudy, quite relieved, wrote back "Yes – we plan an earthquake for all new buyers as a test for the house so you will know it is sound and gives you the adventure experience".
All joking apart, the buyer had used our recommended home inspector and his report came out positive. But it is always nice to get confirmed your house is structurally sound and up to building code, even though you might get some minor damages from a 7.6 earthquake.
Building code in Costa Rica
Costa Rica has a very good building code, better than many other countries that have earthquakes too. Electrical code might be a bit different than what you are used to, but structural code is definitely up to standard. My house moved horribly during the earthquake, which happened when I was taking a shower. At the schools, they teach the children to hide under a table during an earthquake, but my bathroom does not have any tables or anything to hide under. And I wasn't going to run out of the house without any clothes on. So I guess I got lucky my house moved like crazy but didn't fall down on me.
Yahoo News published a great article explaining more about how little damage was suffered. The Costa Rica seismic building code is followed quite responsibly by most builders of Costa Rica homes, though governmental control during the construction process is not very good.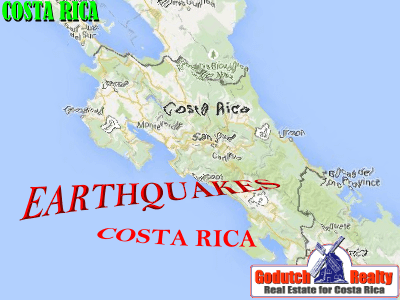 Structural sound construction in Costa Rica
Condominium buildings are mostly built on rolls and though you'll feel like sitting in a hammock while in a building during an earthquake, it is a lot safer than being out in the street where loose power wires might be swinging through the air. If you plan to build a Costa Rica home, make sure your builder or contractor knows what he is doing. Do not try to save money on structural re-bar in the foundation and walls of your home.
When you purchase a Costa Rica home that is already built, make sure the home doesn't have any serious cracks. It is pretty normal for a home to have settlement cracks, small hair cracks in the concrete finish. This happens the first 2 -3 years after the house is built.
Soil replacement
Much of the Central Valley has very bad topsoil, mostly clay, that doesn't drain well. Therefore construction of older Costa Rica homes might be a bit unstable. For the past 15 years, responsible builders and architects have preferred to replace the soil for a more stable one. You'll find that Costa Rica homes built on replaced soil don't have as many cracks as homes built on clay.
The buildings that have had serious damage after serious earthquakes are churches and schools (built on the old clay). Also, homes of the poor and lower middles classes were not built by the obligatory seismic construction codes.
In BEIJING, at least 67 people were killed and more than 700 were injured after several earthquakes, the largest measuring magnitude 5.7, struck southwestern China on Friday, according to local authorities and state media. In Costa Rica, we had 2 deaths, due to a heart attack and a badly built wall.
Work with us, when you're in the market to buy a home or a lot to build your own. We'll make sure you do the right thing, you can ask our clients.
Contact us now to see our real estate inventory.
---
If you like this blog, connect with me on Google+ or subscribe to my newsletter by clicking the banner below.

I DO want to remind our readers that we appreciate any referrals you can send us. Also, please remember the GoDutch Realty agents when you talk about your home in Costa Rica, we appreciate it.