Estimated Reading Time: 9 minutes
Are you afraid to move to Costa Rica because you have a dietary problem or are disabled? Don't be, although you should know a few things about it.
I've tried to cover this important topic in this blog. I'm sure you'd like to cover this before you take the important step of moving to Costa Rica. Costa Rica can be a perfectly delightful retirement destination for everyone, but it depends a lot on the location you choose to move to. Especially If you have a disability or a need for special food requirements. There are many places in Costa Rica with few shopping and dining options.
In other words, you need to find out if Costa Rica fits or doesn't fit your picture. You must check what is available for special needs or a dietary problem.
Click here to visit Three Movers website and check out their moving services.
Dietary problem
A few years ago, I started having dietary problems: celiac disease and lactose intolerance. I thought I might not be able to find as many products in the grocery store here as I would in a Florida store. But I was amazed at all the options that I had.
Grocery stores like Automercado and Walmart have a great dry and frozen gluten-free inventory. These products are quite expensive but available. There are quite a few homemade options too. I have also found several restaurants that can serve a no-gluten diet. If you're a vegetarian or vegan, you also have a lot of choices.
If you are diabetic, Costa Rica offers you all the necessary options. Nutritionists are up to date-and have studied in the US and Europe; they can help you find the products and care needed.
For gluten-free restaurants in Costa Rica, use this Celiac Pura Vida or Celiac Facebook group. There is also a no-lactose Facebook group. I've also learned that good restaurants in Costa Rica will take good care of your dietary problems. For example, I love Indian food, and Taste of India 506 takes great care of my dietary problem.
Many health problems you might have are probably not an issue when moving to Costa Rica. But if you have any, I recommend you ask your real estate agent for recommendations.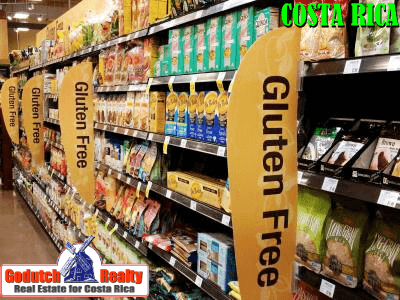 Grocery Stores
You'll be most restricted in your allergy-free purchases in the beach areas. Crosschecking is very important whether all the products you need are available there. Maybe you'll also need a nutritionist in that particular location?
If you plan to live in the Central Valley, you will find many more options for grocery stores in cities like Escazu, Santa Ana, Heredia, and Curridabat. Smaller towns such as Atenas, San Ramon, and Orosi give you fewer options for dietary shopping.
Look for large chain stores like Automercado and Walmart (Mas x Menos and other chains); they offer the best dietary choices. Though expensive, both carry a large inventory of dairy-free, gluten-free, and other allergy-free products. You'll also find some products in the Macrobiotica – health food and natural product stores. Use Google Maps to find a Macroibiotica store near you.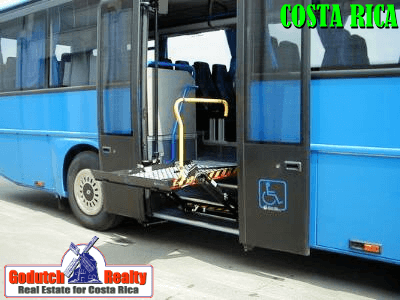 Law for disabled
Thanks to a great job in the Legislative Assembly, Law 8661 was created in 2008. Law 8661 promotes, protects, and secures full and equal rights of all human enjoyment and fundamental freedoms by all persons with disabilities in Costa Rica. It also promotes respect for their inherent dignity.
Unfortunately, like many laws created in the past, law 8661 is mostly forgotten by the government. Institutions in charge do not have the funds to oblige anybody to follow the rules. 5.35% Of the population in Costa Rica has some disability.
Disabled persons' License Plate
If you are a disabled person, you can acquire a special license plate at Consejo Nacional de Rehabilitación y Educación Especial. This is located in La Valencia, Heredia, Costa Rica. 200 metros norte del cruce de Jardines de Recuerdo. If you have trouble reading Spanish, use this Chrome extension of Google Translate to instantly translate the whole website.
Disabled drivers with a special license plate can also request driving on restriction days.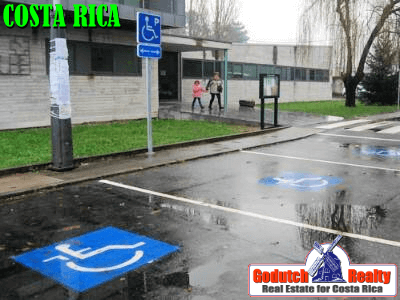 Disabled persons' parking
There is disabled parking at every grocery store, strip mall, and shopping mall. I can't find any formal information about a disabled or handicapped placard or parking permit to put on your windshield anywhere. I've seen some online comments from transit police saying that if it's clear that you're handicapped, you should not have to worry. Get a written doctor's statement if you have a heart or lung disease.
But, you will find disabled persons' parking used by non-disabled everywhere in Costa Rica. There is no control for non-disabled using handicapped parking.
Disabled persons' parking can also be used by seniors, over 65 years old, without any certificate. You DO often see non-disabled using the handicapped parking spot because they're too lazy to walk.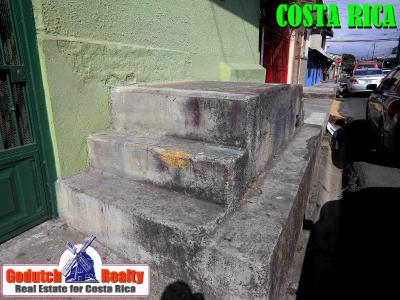 Wheelchairs
If you have a disability, you're usually better off in a rural location than in a city. Most cities in Costa Rica are not very wheelchair accessible, for a good reason.
During the rainy season, it rains a lot, and rain needs big gutters. You can hide a car in some of those gutters. Some sidewalks do have ramps, but you might not always be lucky. Getting from one sidewalk to the other is usually impossible, especially in a wheelchair. That's because the municipalities and property owners don't build ramps over those gutters. Or there are no sidewalks at all.
Also, people often block handicap ramps for lack of understanding of the need for the ramp.
There are quite some buses in San Jose that have a ramp installed on the bus. But most don't function, or bus drivers do not cooperate. Very few taxis have a wheelchair ramp installed. If you depend on public transport and need wheelchair accessibility, Costa Rica might not be your right retirement destination.
If you can drive your own car or have a driver, you must take a few hurdles here and there.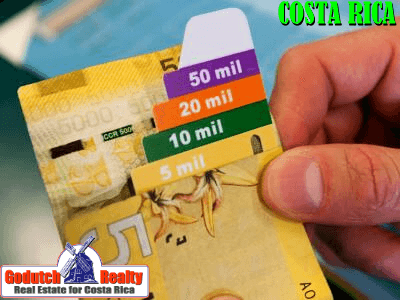 The blind & visually impaired
Being blind or having a visual disability in Costa Rica must be difficult. Sidewalks are ramps for carports, and crossing the street with all those humongous gutters when you're blind must be difficult. You can hide a truck in those gutters, often obstructed with garbage and full of water.
You will find that most pedestrian traffic lights have beep-beep for blind pedestrians. Sidewalks, though, are mostly very uneven and difficult to walk on, even for those who are not visually impaired.
There are many cities, though, that do have nice, wide sidewalks and ramps. Do your homework before you make the decision to move.
Most elevators in buildings have braille on their control buttons.
Money in Costa Rica doesn't have braille in its bills. But every denomination was designed in a different size. M.A. Erick Hidalgo Valverde designed a simple-to-use device so the visually impaired know which bill they're dealing with.
Moving successfully
Maybe you are unsure if your disability, dietary problem, or other special requirements will allow you to move successfully to Costa Rica? I have tried to cover some medical issues you might have without getting too specific. In another blog, I also covered the chiropractic problems you can solve.
Our agents will do all they can to connect you with the right medical specialists and get your questions answered. Ask your GoDutch realtor to help find the right contractor to adjust your home in Costa Rica to your disability problems.