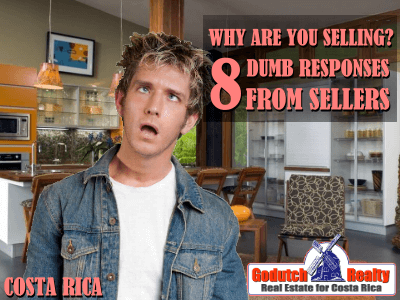 I have decided to give sellers 8 dumb responses from homeowners they should NOT use if they're really motivated to sell.
First of all, I always recommend sellers to not even be at home when the agent is showing the property. But, I understand how difficult that is. It's even harder to keep your mouth shut and allow the agent to do his/her job.
That said, the least I can do, is to give those insisting homeowners a hand. By showing how easy it is to say the wrong thing.
"Why are you selling" is a perfectly innocent question, where most sellers tend to put their foot in their mouth. Of course, it is much better if the seller is not even around at the showing. That way, the question won't even be asked (or they'll ask the agent). I want to remind you we have no disclosure laws in Costa Rica.
Buyers will definitely take advantage of the situation if they feel they can get a really good deal. You'll understand better after reading the 8 dumb responses homeowners often give when asked that simple question.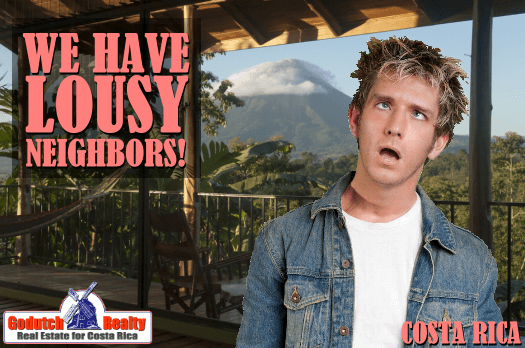 1. We're in a divorce
Once a client finds out you're in a divorce, they'll know you want out. As fast as possible. So, with the statement that you are in a divorce, you're only putting more stress on yourself and your agent.
2. My wife passed away
Though we feel really sorry for your loss, don't say that your wife (or spouse) passed away. Buyers might think they'll be sleeping in the same bedroom where someone died recently.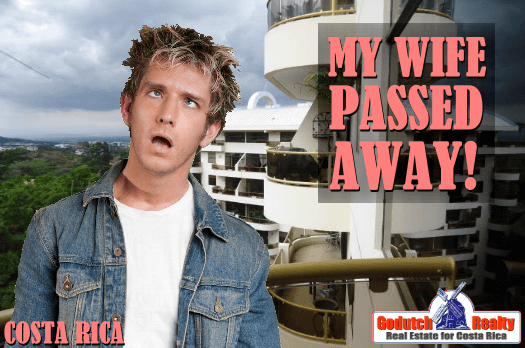 3. We have lousy neighbors
Yeah, that will sell your house really fast. Why not put a sign in your front yard and warn buyers before they even come in?
4. We already bought a new house
Oh man, you're under a lot of pressure. Sure you'll be paying two mortgages. A buyer will smell a really good deal.
5. I can't afford the maintenance
This is not a good sign. A buyer doesn't want to purchase a money pit. Don't explain all that needs to be done. The agent will probably tell you to request a home inspection.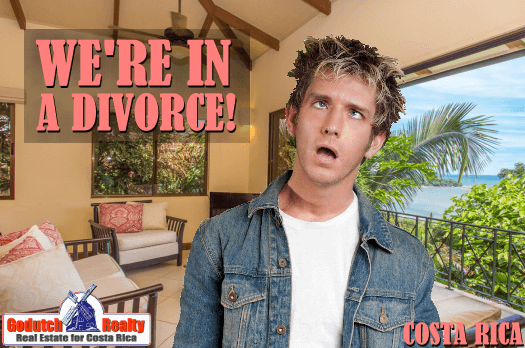 6. I lost my job
Again, we feel sorry for your loss. But don't tell the buyer you lost your job. It's another one of those dumb responses from homeowners you don't want to use.
7. The bank is foreclosing on me
Your financial burdens should not be made public, even if your house looks terrible.
8. The neighborhood is noisy
Buyers should do their own homework, especially if the buyers are represented by their own agent. The noise of the neighborhood is definitely not something that you need to advertise if you're a motivated seller.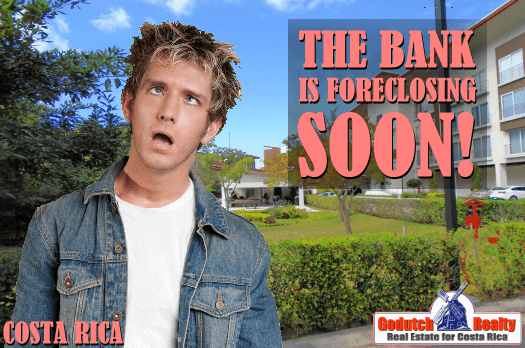 A positive reason
If you can't get away from giving a reason, you might be able to come up with some good ones yourself. I would say, don't lie when giving an answer but try to make them real positive. You can say something like "we want to be closer to the grandkids, but we are really sorry to move".
Do you still want to list your house for sale? Then make sure you contact the experts. But please promise me not to use any of the 8 dumb responses from homeowners during showings.
The grammar of the Spanish version of this blog was checked and corrected by Wagner Freer of Spanish School for Residents and Expats. We strongly recommend this language school as your best choice to learn Spanish, click here to contact them. Now also in Green Project Language School, Ojochal.

---
If you like this blog, subscribe to my newsletter by clicking the banner below.

I DO want to remind our readers that we appreciate any referrals you can send us. Also, please remember the GoDutch Realty agents when you talk about your home in Costa Rica, we appreciate it.