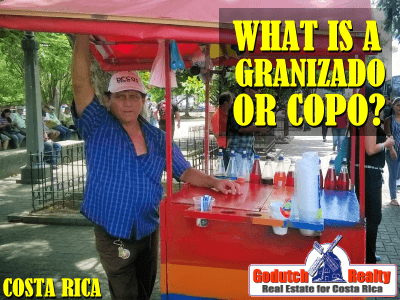 When the weather is hot, you need to order a granizado, also called a copo.
Summertime in Costa Rica is around the corner although we really have an eternal spring. The December winds are making overtime and we're almost in Easter week or "Semana Santa". Therefore, we still have a lot of winds. It keeps us cool though and nobody needs A/C or even ceiling fans.
When it does get hot, a great way to stay cool, it's time for some Tico specialties. A cool thing to do is to buy yourself a "copo", also called "granizado" or a snow cone. When looking to buy a property in Costa Rica with your realtor, tell your agent you are inviting for a granizado, it will familiarize you with the local customs.
Most North Americans living in Costa Rica know what a snow cone is. But I have never seen snow cones anywhere in Europe. A granizado or copo is shaved ice with colored syrup. In other words, it's ice cream without the cream. In Costa Rica, you have a choice to add vanilla ice, condensed milk, and milk powder, or all three. If you take a copo with all three milk types, they call it a Churchill, like the former UK Prime Minister. The word granizado comes from hailstone (granizo).
Copos
You will find the little carts with copo vendors in places where people tend to linger, like in parks, bus stops, and the beaches.  Their cart carries a large block of ice in the middle and bottles of colored syrup on the side. By moving a steel shaver over the block of ice, they shave enough ice together and empty the shaver in a cone or plastic drinking cup. The shaver looks very much like a wood shaver but has a compartment on top to catch the shaven ice.

Churchill
Some places in Costa Rica have become famous for their granizados and Churchills, like "El Paseo de los Turistas" in Puntarenas. Where the large pier is and right on the beach, you will find a long row of little kiosks with huge open air terraces under the tall almendro trees. Those little restaurants will serve you the best Churchills in Costa Rica, as well as great fruit salads. These fruit salads carry not only fruit but also ice cream and gelatin.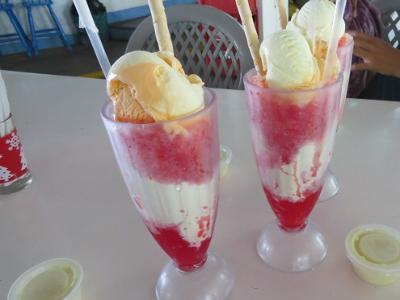 The name "Churchill" is explained in this video. A person who looked much like Sir Winston Churchill loved to go eat a granizado with very typical characteristics at the end of each day, which ended up being called Churchill.
This YouTube explains what a Churchill is all about
Soda Castro
Another famous place, this time on 10th Avenue in San Jose, also called Avenida San Martin. The address is 300 east of the Castellana gas station and it's called the "Soda Castro".  There used to be a Soda Castro on the Paso Ancho roundabout. But was torn down a few years ago for the construction of the new overpass.
In the Soda Castro 10th Avenue, they don't only serve a great Churchill. They have fantastic banana splits, fruit salads and they also have the best ice stick creams I've ever tasted in my life. Try also their batidos or milkshakes.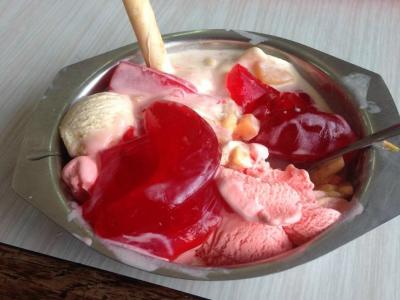 Buen provecho!
---
If you like this blog, connect with me on Google+ or subscribe to my newsletter by clicking the banner below.

I DO want to remind our readers that we appreciate any referrals you can send us. Also, please remember the GoDutch Realty agents when you talk about your home in Costa Rica, we appreciate it.