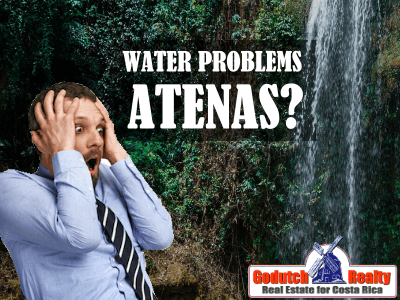 The severe water problem in Atenas was in the news again, this time in the Diario La Extra.
Before you decide that Atenas is not for you and close this blog, let me tell you: the severe water problem in Atenas is only in certain parts. The gringo communities don't have any problems because they have their own water well. That is why I am publishing this article, so everyone is well informed.
Many of our clients have bought property in Atenas in the past and we'd like to keep you updated with what is going on. As you probably know, there has been a severe water problem in Atenas since 2014. That was when the residents of Grecia, where most of the Atenas water comes from, went on strike because the Atenas AyA was taking the water from the Grecia water supply.
Since then, there is a severe water problem in Atenas, but only in some areas of the city. So what the heck is going on? Let me explain.
Gated communities
There are water wells in all "gated communities" in Atenas. Those water wells were legally built with permits by each individual real estate developer. They all have plenty of water to supply every property within the community. Those gated communities with good potable water are:
1.       Roca Verde
2.       Lomas de Paraiso
3.       Hacienda Paraiso
4.       Cerro Luna
5.       Vista Atenas
Suddenly, also in 2014, the national water company AyA, declared all private water wells illegal, even though they were all dug with the necessary permits. You can read more about this here. Long story short, those communities have plenty of potable water for their own use. And the Municipality is cooperating, by approving building permits in the above-mentioned communities.
There is a reason that the Municipality of Atenas is cooperating with the building permits. Mayor Wilberth Aguilar understands the economic power that the residents of these gated communities bring to Atenas. Most residents in the gated communities are expats. 100 Points for Mayor Wilberth Aguilar!
The Mayor of Atenas
Mayor Wilberth Aguilar, since he was elected, fights the water company AyA for water for his town. AyA created the severe water problem in Atenas. Also, Don Wilberth even took the issue to court. In 2014, he started a constitutional appeal against the Instituto Costarricense de Acueductos y Alcantarillados (AyA) which is still ongoing.
Where else?
Of course, you'd like to know where else there are no water problems in Atenas?  Our Atenas agent, Marian Veltman, knows her way around very well. She can tell you which areas of the city have a water problem.
Two issues
In short, there are two issues with the water problem in Atenas and they are totally different:
1.       The properties with a severe water problem in Atenas are connected to the AyA water pipe. You can see if that is the case by requesting a copy of the water bill. Not all properties connected to AyA do have a severe water problem though. There are areas in Atenas that do not have water problems.
A reasonable solution to this is to get a sufficiently large water backup system and pressure pump that will fill up when there is water, mostly in the middle of the night.
2.       The water problem in Atenas does not affect the gated communities. They have their own water well with great pressure and good quality potable water.
Building lots in those communities might have a problem getting a building permit, but there are solutions. Contact our agent for the right answers to your questions if you want to buy or sell a building lot in any of those communities.
My recommendation
Therefore, my recommendation is to always purchase or sell through an honest and professional real estate agent who lives and works in the same area. That is why we share freely all available information with you. If you have any questions, feel free to put them in the comment box below.
Selling or buying? Contact us now for professional assistance.
Feel free to leave your comments on this blog.
---
If you like this blog, connect with me on Google+ or subscribe to my newsletter by clicking the banner below.

I DO want to remind our readers that we appreciate any referrals you can send us. Please remember the GoDutch Realty agents when you talk about your home in Costa Rica, we appreciate it.