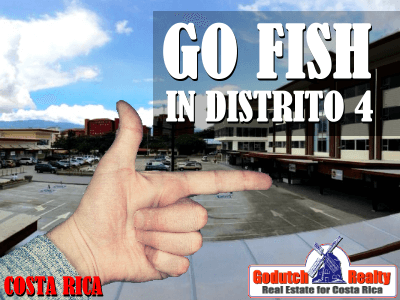 You don't need to Go-Fish it yourself, and they'll serve it cooked. We're not family, although we sound like it.
Go-Fish is not the same as GoDutch. Go-Fish does fish and GoDutch does … real estate in the Central Valley of Costa Rica.
At GoDutch, we are incredibly good at doing real estate. Go-Fish is incredibly good at feeding you if you like to eat fish.
For fish, you usually have to go to the beach. Go-Fish seafood restaurant opened up in Curridabat, on the east side of San José in April 2012. I'd heard great stories from a lot of people about how great that restaurant was doing. But driving to Curridabat from where I live is almost the same as driving to the coast. So we never got to it, until the owners decided to open their 2nd restaurant in Escazu in 2016.
Location
We definitely welcomed this, as Distrito 4 is only a couple of blocks away from our home. There is always plenty of parking and we can combine it with some grocery shopping as there is an Automercado right there. Their bet for the location was a great one as there are 5 or 6 more restaurants there and even a Starbucks for the coffee freaks.
The terrace
You really want to make sure you get a table outside on the covered terrace and not inside. We once had to sit inside because we didn't make a reservation. Unfortunately, there were 6 women having lunch inside too. The noise they made was so bad that we both had our brains paralyzed during the lunch.
Drinks
The service at Distrito 4 is outstanding. Even when the place is packed, they first get your order of drinks and soon you'll be able to check the menu with the drink of your preference. They have a 2 for 1 on Monday and Tuesday on Sangrias, Mojitos, and Margaritas. My wife says they're all great. They also have my beloved Rum 'n coke, lots of ice, no lime.
Great variety
Dany doesn't eat much because she is always on a diet. That's also why she loves going to Go-Fish, the portions are small but they have a huge variety on the menu. If you don't eat certain ingredients, the waiters know their job well and they will somewhat adjust to your dietary needs. This is one of the few restaurants that I know in the Central Valley that has a whole fried fish (1 kilo) on the menu.
They have an awesome Tuna Poke and several great salads. And they will accompany almost everything with plantain, a great local ingredient. Also try their ceviches, octopus, corvina, cameron, tuna, and salmon. I'm not good at describing all this but I'm great at eating it all.
Buckets and wraps
Their buckets are really special and pretty famous. They have buckets with spicy shrimp, squid, and their garden variety crunchy bucket. Their wraps are also a good try and their Louisiana Po Boy competes with the ones I've had in New Orleans (I thank the gluten pill manufacturers). For the Brits, they have a great fish 'n chips.
Gluten free
They have a great gluten-free menu, which I love. Since I'm also lactose intolerant, they will change a sauce or whatever needs to get changed. They really understand the needs of the client.
Pet friendly
Since Benny (our other Poodle) passed away, we don't want to leave his brother Pinky at home alone. Pinky gets his own chair and sips his Imperial light until it's time to go home. This restaurant is really pet-friendly as long as your pet behaves.
Oh, and you really need to try all their chocolate desserts and the pecan pie, they're well worth the extra calories. Don't try them all at once, please.
Pricing
Like most restaurants in Escazu, they're pricey. But I promise you'll have a great meal and a good time.
Go-Fish plans to expand to Heredia in 2018. They also have a food truck that visits large events and certain locations that they always announce on their Facebook
Reservations
For reservations, call Escazú: 2228-0770 and Curridabat: 2272-7154.
Their website is under construction, but at least you can see the menu.  (Main photo courtesy of Escazu News, others courtesy of Go-Fish)
Buen provecho!
Looking to buy or rent? Have lunch or dinner first at Go-Fish, then contact us. We like happy clients.
Feel free to leave your comments on this blog.
---
If you like this blog, connect with me on Google+ or subscribe to my newsletter by clicking the banner below.

I DO want to remind our readers that we appreciate any referrals you can send us. Please remember the GoDutch Realty agents when you talk about your home in Costa Rica, we appreciate it.