Estimated Reading Time: 5 Minutes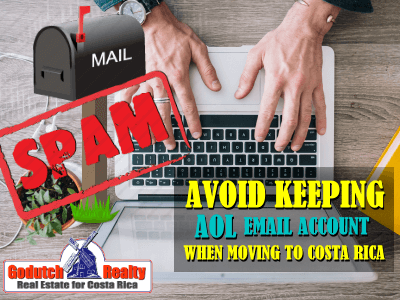 If you decide to keep your AOL email account even after you move to Costa Rica, you will ask yourself soon why nobody gets in touch with you anymore.
If you keep using your AOL email account, you will stop hearing from your beloved family members, your former neighbors and the friends you thought were for life. You might start thinking that you moved to Costa Rica because they don't love you anymore.
Do you love your AOL email account so much that you don't want to get rid of it? There are all kinds of ways to put all your friends, business associates, and family on a whitelist. It's really pretty easy to do so, but why go through hours of work if you can just open a Gmail account so much faster.
Wondering
Are you wondering why nobody from Costa Rica answers your emails? Then go into your spam box and check what's there.  You'll probably find it full of Spam and Junk mail. Once you do, you can put those who you're interested in doing business with on your whitelist.
Not only AOL
AOL is an Internet Service Provider (ISP) that will flag any email coming from Costa Rica as being untrustworthy.
There are other email services that see emails coming from Costa Rica as spam. SBCGlobal.net (AT&T Services) and Comcast are also a royal pain in the butt. Often Yahoo and Hotmail also have spam issues.
If you'd like to find out exactly what spam is, go to Webopedia.
Your due diligence
The headaches really start when you will begin your due diligence. You send our emails to real estate agents, moving companies, lawyers and maybe even a plastic surgeon for that facelift you always wanted.
After days of waiting for an answer, your AOL email inbox stays empty. So, you try again, but now with their competition. Because you have heard enough about Tico Time and the laid-back lifestyle they have over there in that Banana Republic.
Spam
What you don't know is that you AOL spam inbox is filling up with every email you send to Costa Rica. There are all these people, who want your business, and they can't get in touch with you. Unless they're smarter than AOL.
Gmail
The best way to get around that AOL email account problem is to get yourself a Gmail. You might hate Google as much as I hate AOL, but it works, I promise. Plus, a Gmail account is also a cost-free, just like having an AOL email account.
AOL hackers
My email address must be on hundreds of address books of AOL emails account holders. I get at least 2 spam emails a day from a hacked AOL email account with a link to some virus or malware.
This means that AOL really worries about real emails coming from Costa Rica, but do not care to protect their members from hackers. So, if you'd want to get rid of that AOL account before you even move to Costa Rica, good riddance.
Whitelisting
You still don't want to get rid of that oh so special AOL email account? Then you better learn how to put all those people you love on your whitelist. This is a great article on whitelisting.
Our Newsletter
I also hate spam, and I get hundreds a day myself. Therefore, we use the specialized newsletter service MailChimp. They have an abuse monitoring system that protects you and me from spamming. Do you want to receive our newsletters? Well, on these newsletters, we advertise the following warning:
Important note
Yahoo!, Hotmail and AOL are using overly strong spam-blocking filters that will most surely stop you from receiving any emails from us. Unless you set up your spam filters to allow emails from the @godutchrealty domain, we do NOT guarantee the receipt of download and/or purchase information for users of the above mail services. If you don't receive the email within the next 10 minutes, please make sure you check your bulk/junk mail folder. If the message isn't there, please request a download link from customer support.
Are you ready to buy Costa Rica estate? Then don't use AOL.com to do this, because you'll find it empty. Be smart and contact us, but don't use your AOL email account, please.
The grammar of the Spanish version of this blog was checked and corrected by Wagner Freer of Spanish School for Residents and Expats. We strongly recommend this language school as your best choice to learn Spanish, click here to contact them.
---
If you like this blog, subscribe to my newsletter by clicking the banner below.

I DO want to remind our readers that we appreciate any referrals you can send us. Also, please remember the GoDutch Realty agents when you talk about your home in Costa Rica, we appreciate it.