Estimated Reading Time: 3 Minutes
If it is time to get out of the country for a tourist visa renewal because you are not a legal resident of Costa Rica, Bocas del Toro, Panama, is a good option.
My mom was visiting and stayed longer than expected. So it was necessary to make a tourist visa renewal trip to Bocas del Toro.
You cross the border into Panama in Sixaola, Costa Rica, a sleepy border town in the Southeast part of the country surrounded by banana plantations.  You can drive your car there, park it, go into Panama, or get a shuttle from one of the popular beach hotels in Cahuita or Puerto Viejo.
If you are going to drive it into Panama, make sure that you have spoken with your lawyer, and have all of the necessary paperwork.  The shuttle is about $28 a day, and the parking is $7 a day (in 2011).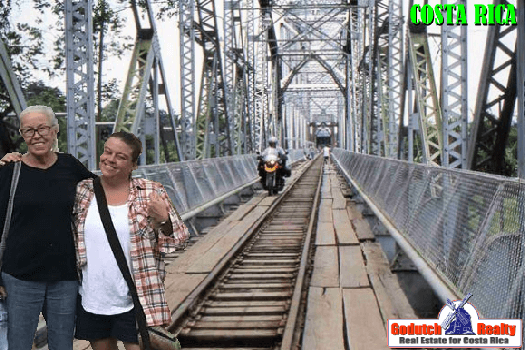 Border Crossing
Crossing the border is easy; as I said, this is a sleepy border town, so getting out of one country into another is pretty easy.  Once you have your passport stamped in Costa Rica, you have to cross a long scary bridge that leads to Panama.
Once in Panama, you must go to two different windows and pay $5 to the Panamanian border guard.  Then you can take a taxi to Almirante, the dock where the water taxi is.  The taxi is about $10 a person, and the water taxi is $5.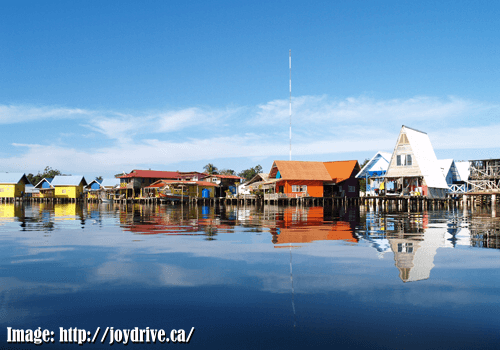 Bocas del Toro
Once you arrive in Bocas, there are lots of taxi drivers ready to take you to your hotel.  We stayed at La Coralina (closed since 2018 ED), about 10 minutes outside Bocas.  That hotel was $110 a night, with breakfast, and it was gorgeous! 
On our last night, we stayed at Bocas Inn, near a town; it was a pleasant surprise.  It was a really cute hotel on the ocean, as most of the older buildings are on the island.  We had a great dinner and saw part of the Carnival Festival with the Little Devils. They had chains and tried to hit the kids with them; meanwhile, the kids tried to hit them with sticks. It was pretty scary, but we were comforted to know it was all an act. I made a video on "The Diablitos de Bocas del Toro," but unfortunately, it got lost in the change in this website's technology. Therefore, check it out on YouTube.
Coming home was a breeze; the water taxi was right on time, and a regular taxi in Almirante delivered us, (almost!) to the border; we had to get another guy for the last couple of kilometers…
Financially speaking, and for convenience, I think Bocas is a great adventure. It is a totally different kind of place for your tourist visa renewal!