Estimated Reading Time: 4 Minutes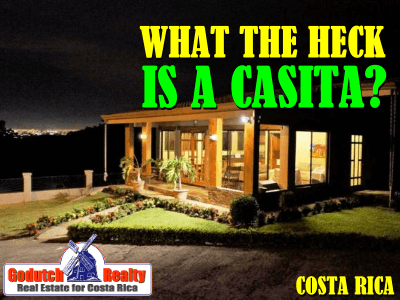 Do you know what a casita is? If you're looking to purchase a luxury house in Costa Rica, you really need to learn what a casita is.
You'll see the word casita used in many real estate listings. You will find a casita mostly on luxury home properties.
The Spanish word casita means little house or small house. In reality, a casita is a guest house or a caretaker's house.  It can be located on a farm or on a luxury property, as long as the property is large enough to hold a guest house.
Atenas and Grecia properties are known to have a casita. The reason is that both cities are large expat communities, with lots of property owners who have a casita for a reason.
Layout
How does a good layout of a casita look like? I've seen some real fancy guest houses. But a normal casita has an open floor plan living room and kitchen, a bedroom and a bathroom. Some little houses have 2 bedrooms or even more. Important for a casita to have is a covered terrace or balcony. Hopefully, you have some views from the terrace. And a place where you can hang a hammock would be a plus.
If you plan to build a little house, don't make it too fancy. Your guests will never want to leave. Make it just so comfortable that after a few weeks, your guests become uncomfortable.
4 Reasons to have a casita
Family
Visiting family is probably one of the most important reasons to have a casita on your property in Costa Rica. Just give every family member that you want to have the use of your little house a key and they're set for life. Family members will make themselves at home, even if you're not there.
If you have a large family, you might want to attach some lockable storage to the guest house. Repeat customers don't want to bring their surfboard and bird watching equipment with them all the time.
Guests
Often, you will find expats with a retirement home in Costa Rica who doesn't want family or friends to stay in their own house. Especially those guests, who come quite often, interfere in the day-to-day life of those who are now retired.
There is nothing worse than having to play the perfect host for repeating guests all the time.  Or a free tour guide. With such a guest house, you can just give your guests the key and wish them luck on their vacation.
Vacation rental
Using your casita as a vacation rental when your guests don't can be a lucrative business. Vacation rentals in the right area of Costa Rica can be simple to run. If you have the right property manager!
The advantage of having a vacation rental is that it might pay for the upkeep of your own home.

Caretaker
Some properties are large enough to have a caretaker's house. These caretaker's houses, when not used, are usually perfect as a guest casita. It is possible the caretaker's house needs upgrading to be used as a guest house.
Pool
Normally, casitas don't have a swimming pool. Depending on where the pool is located on the property, often there is an agreement the residents of the guesthouse can use the pool. I have seen some others with a hot tub.
Looking to buy a house with a casita in Costa Rica? Contact us now.