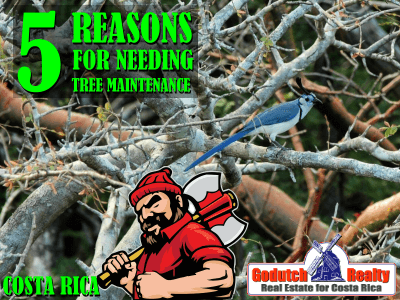 Not paying attention to the tree maintenance on your property before the rainy season starts can do a lot of damage.
Costa Rica is a diverse country of plants and is home to about 1900 different species of trees. Many of them know how to thrive in Costa Rica's tropical climate and fertile soil. The tropical climate provides an abundance of rain and sun.
While your Almendro (almond) or Guanacaste trees may beautify your property, add value to it, provide shade, and be a sanctuary for wildlife, proper tree maintenance is necessary.
Of course, you want to avoid damage to your property and endangering people.
Planting new trees?
Plan ahead if you want to plant new trees. It is a general guideline is to avoid planting a tall tree closer than 5 to 10 meters from any construction or septic system. Also, you will want to keep a nice view from your home or pool, so it's important to pick the right tree to plant.
Do some research on how tall that type of tree typically grows and the growth pattern of its roots – then make a judgment.
Tree Maintenance
Costa Rican soil is incredibly fertile. Many homeowners don't even think about tree maintenance after landscaping the garden for the first time.  Here are 5 reasons why you should not procrastinate in trimming, cutting, or removing your trees. Although it's not customary in Costa Rica, getting advice on your landscape layout from a professional might be a good idea.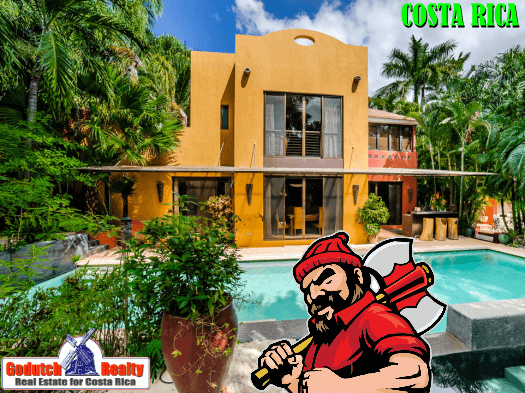 5 Reasons for Timely Upkeep
1. Safety for you, your family, and neighbors
Costa Rican trees flourish in their lush climate, often growing large branches and roots. According to expert tree service professionals, if trimming is neglected, these branches may soon collide into power lines. They also may fall in the rainy and windy season if the tree is diseased or dead. Both present potentially hazardous scenarios that aren't worth risking the safety of your family and neighbors.
2. Avoid having to repair your building or roof
Large branches may also cause damage to the gutters or the roof of your house, both of which can be costly to repair. The branches may simply grow towards the side of the house or branches may fall, causing damage. The destruction and repair can particularly be a nuisance in the stormy season.  Water damage or mold to the interior or the exterior walls of your house will add to the overall cost of the fix if you wait too long with the tree maintenance.
3. Roots are "invisible" – avoid having to repair your septic system
Be sure to check on the roots of trees planted near your property or septic system. Roots are the structural system of a tree. They absorb the water and nutrients from the soil and support the trunk and crown of the tree. If you have a large tree with large branches, chances are that its root system is robust as well.
You may not see the whole root system above ground. It's important to understand that roots grow and travel underground. They spread out far beyond its trunk diameter to give its nutrient system more surface area to absorb water.
In Costa Rica, each home has its own mini wastewater treatment system, the septic system, which resides underground. Roots may invade and damage the system, obliging you to spend money on a costly repair or construction of a new septic system.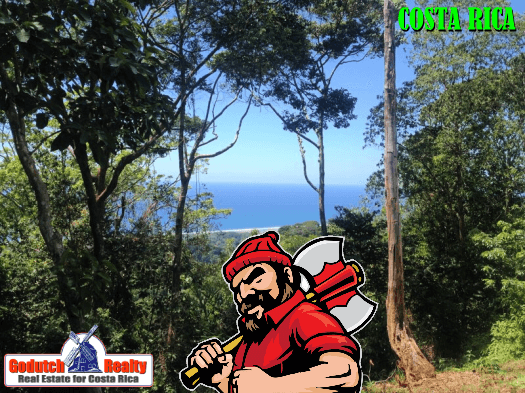 4. Prevent your gutters from clogging
Trimming tree branches closer to your property can help prevent a gutter clog. A rainy season in Costa Rica comes with wind – and with wind comes fallen leaves from trees. The closer your trees are to your property (and the taller they are), the higher the likelihood that leaves will clog your gutter. This will cause water overflow and spillage.
Overflow can cause your gutters to sag (due to the excessive weight) and can also damage the fascia of your home, which can introduce more potential water damage to your home.
5. Landscape aesthetics
Aside from safety considerations, failure to trim your trees can result in an untidy landscape. Trimming can enhance your landscape's appearance and clear the view of the scenery.
If you're still unsure, contact a professional arborist or landscaping company for an expert opinion. It's likely they'll be able to give you suggestions on tree maintenance and your landscape as a whole as well.
---
If you like this blog, subscribe to my newsletter by clicking the banner below.

I DO want to remind our readers that we appreciate any referrals you can send us. Also, please remember the GoDutch Realty agents when you talk about your home in Costa Rica, we appreciate it.