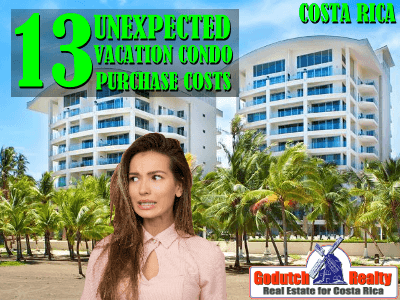 You have now decided to buy that vacation condo in Costa Rica that you fell in love with. Isn't it awesome! But before you sign the Reciprocal Option to Buy / Sell, you want to know what costs are involved.
Can you afford that vacation condo? Can you afford the extra things that are involved?
Have you taken into account every single important cost or will there be more later?
You probably already know that GoDutch Realty has only agents in certain areas of the Central Valley, so the beach is not so much our thing. You might not realize though, that I am president of the American European Real Estate MLS with 29 affiliates all over Costa Rica, with around 100 agents.
Many of those affiliates cover the best beach areas of Costa Rica: Cahuita and the Southern Caribbean beaches, Dominical and the Southern Pacific beaches, Los Sueños and the Central Pacific beaches, Tambor and the Nicoya Peninsula, Tamarindo and the North Pacific coast, and even Lake Arenal. Check out the photos below to get a better taste of what I'm talking about.
The most difficult part of the process is to cover the cost of the purchase because there is no bank financing available in Costa Rica until you have legal residency. If you are a cash buyer, you won't only be surprised at how easy it is to buy a vacation condo in Costa Rica, but also how the best deals are found for cash buyers.

Check out Los Suenos Resort beach club – Ocean view and golf vacation condos
Buying a vacation condo in Costa Rica can a great idea; do your homework right. The biggest advantage is that the weather in Costa Rica is always great, even when it rains. The beaches are awesome and the people are real nice. I'm pretty sure you agree on all those items. Let me walk you through those 13 other important costs that for sure will hit you during or after the purchasing process of your vacation condo in Costa Rica.
1.    Condo – HOA Fee
How much is the monthly condo fee and what does that cost cover? Condo fees depend on many variables such as size, amount of condos, security, and amenities. Do your homework by comparing.
2.    Water
Some condominiums do not have a separate water meter for each condo, so the monthly cost of water usage is included in the condo fee.
3.    Special Assessment
Does the condominium have a healthy Home Owner Association or HOA? Have they built a reserve fund? Is the maintenance on the condominium up to date? Are any homeowners behind on their payments? Is it common to have a special assessment every year and if there will be one at the end of the fiscal year? You don't want to end up paying an unexpected extra fee that is the responsibility of the seller.
4.    Condo Insurance
Does the condominium have an insurance policy and CCSS for their employees? Many condominiums do not have fire and earthquake insurance policies either.

Playa Tamarindo is not only about surfing – check out the vacation condos
5.    Household Insurance
You will need your own insurance policy to ensure your personal belongings. You should also cover the risk of water leaks that damage floors below yours if you're in a condo building.
6.    Parking
How many titled parking spots does the vacation condo have?  Many vacation condo buildings only have common area parking and sometimes have assigned spaces that nobody respects. That means that you don't have your own. If your neighbors have their units rented to a lot of people, you might not have. That might oblige you to find paid parking elsewhere.
7.    Home Inspection
Before you close, get a home inspector to do a complete home inspection. In Costa Rica, vacation condos are sold as-is, so it's better to know what needs to be repaired before you move in and who will pay for those repairs. Find out what a home inspector will charge.
8.    Appliances
Most often, appliances are not included. If they are, make it clear in the option to purchase–sale agreement. If they're not, shop around for the right size appliances. Measure the spaces in the vacation condo before you start shopping.
9.    Furniture
You will want your new vacation condo furnished and unless you're buying it, turnkey, find out where you can purchase furniture, if you like it or not, and what the cost is.
10.    Linen
Good towels and sheets difficult to find in Costa Rica. See what you will need for at least a year, especially if you want to turn your vacation condo into a vacation rental.

Reserva Conchal vacation condos for sale – Playa Conchal
11.    Lock-Off
Very few vacation condos in Costa Rica have a good storage area if any at all. If you plan to turn your condo into a vacation rental, you will need to use one of the bedrooms for storage and be able to lock it off or find nearby storage that you can rent, which will be an additional cost.

12.    Property Manager
For vacation rental information, speak to various property managers about their commission and the cost of advertising. Read my article about marketing your vacation rental.
13.    Storage
If your vacation condo is near the beach, find out where to store your surfboards, boogie boards, your kid's beach toys, bicycles, and other important items for a successful beach vacation. If the condo has no, you might have to find rental space nearby.

Check out Santa Teresa / Playa Carmen – Nicoya Peninsula vacation condos
We have plenty of beautiful locations to choose from, contact your preferred GoDutch agent for more information.