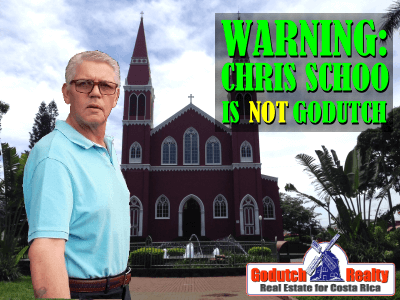 Watch out, Chris Schoo of Dutch Grecia Realty doesn't belong to our real estate organization. He is not our friend, partner or employee. The only thing we have in common is that he carries the Dutch Nationality and that he works in the same city as Brooke Bishop.
Why this warning? Because we have a serious case of identity theft here.
In April 2019, I learned Mr. Chris Schoo created a website with the title Go Dutch Grecia Realty. See all the proof at the end of this blog.
When I called Chris Schoo and told him he should shut this Go Dutch Grecia Realty website down within 24 hours. If not, he would hear from our lawyers.
Identity Theft
Yes, this is identity theft. I guess his lawyer told him. Well, he did get rid of that website. BUT he created another website, now calling it Dutch Grecia Realty.
I definitely understand how someone who doesn't know as much as we do about Costa Rica real estate tries to compete this way with us. It's also understandable that a person has a hard time surviving in a very difficult business environment.
I cannot understand how anyone would try to gain confidence from clients in such a way.
Our business, real estate, is all about confidence. And if you start off with the left foot, misinforming your clients that you belong to a well-known real estate office… and you don't?
His Homepage
See in the image below how he used the domain name godutchgreciarealty.com and the name Go Dutch Grecia Realty as if his real estate office forms part of GoDutch Realty.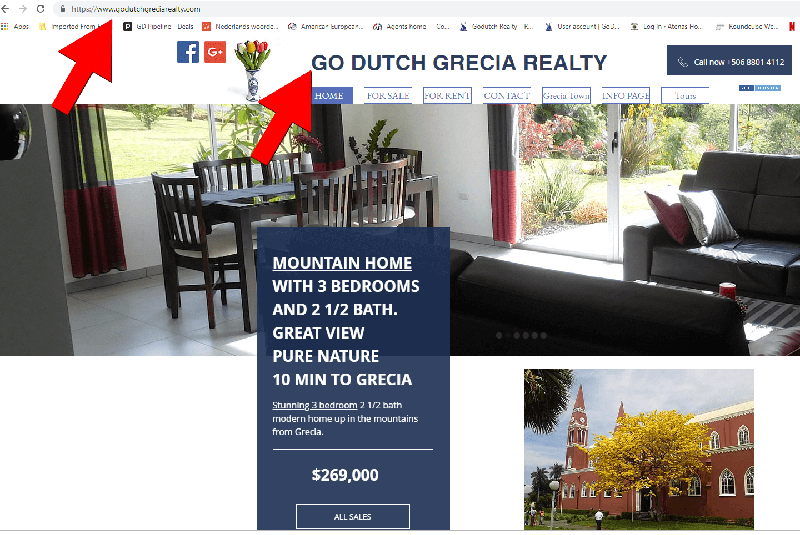 Google
Google, of course, recognizes his website, when clients search for GoDutch Grecia, see red arrow in the image below. He even included his phone number in the description for those looking to connect fast.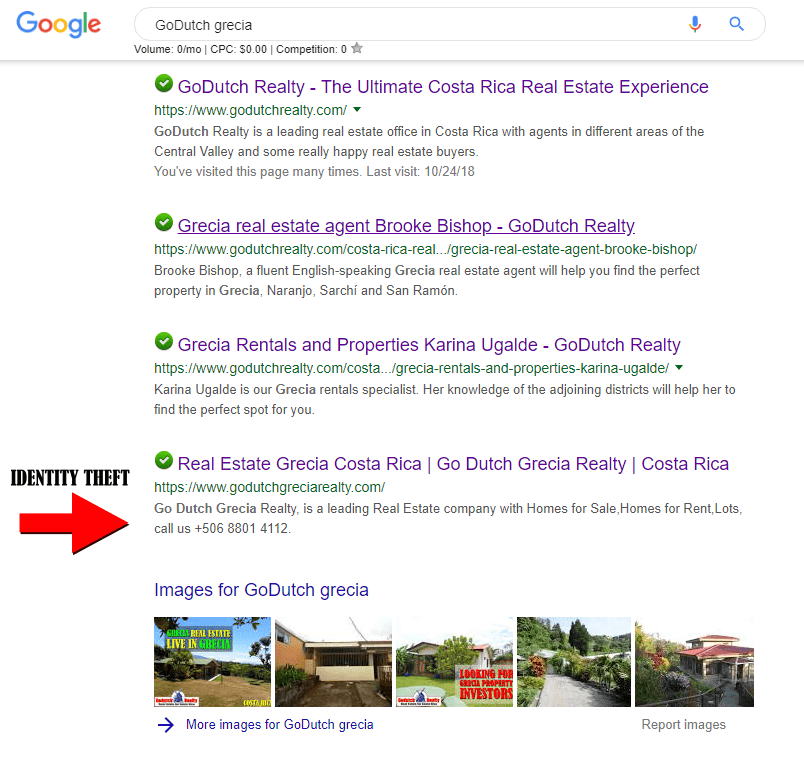 Email address
Mr. Schoo even created a Gmail address with the name godutchgreciarealty@ to make clients think they're dealing with the REAL GoDutch Realty.

Google maps
The man went to a lot of work to be present everywhere buyers and renters of Grecia real estate look for options. The main office of GoDutch realty is in Escazu, which is where it shows on Google maps. See below that Google maps show GoDutch Grecia and how even Google falls for identity theft.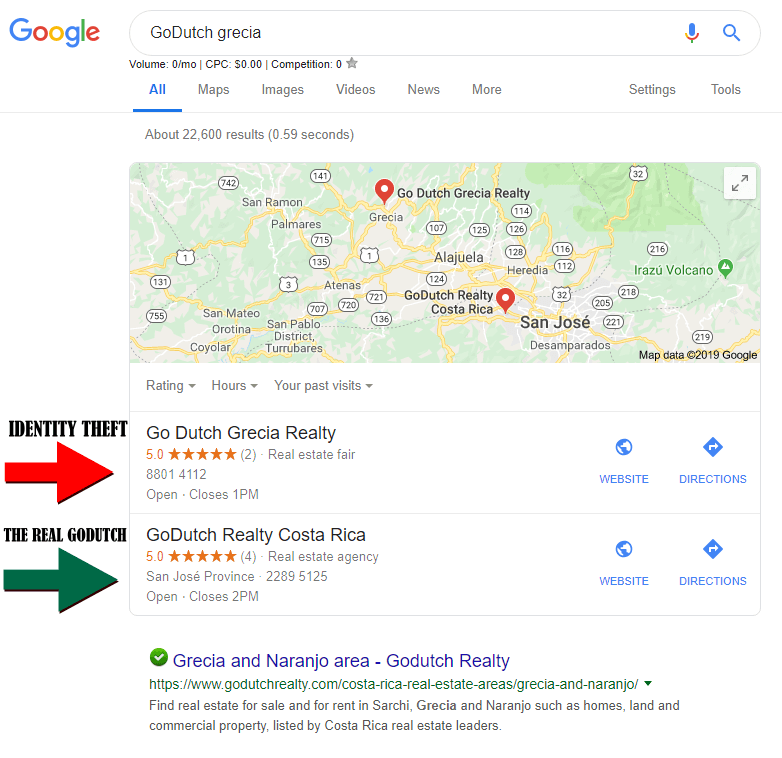 Facebook
Our "colleague" even went as far as creating a Facebook page with the name Godutch Realty everywhere. here, you can also see that he tries to keep his listing identification numbers to look as similar as possible as ours. We use the letter GD in front of every listing number.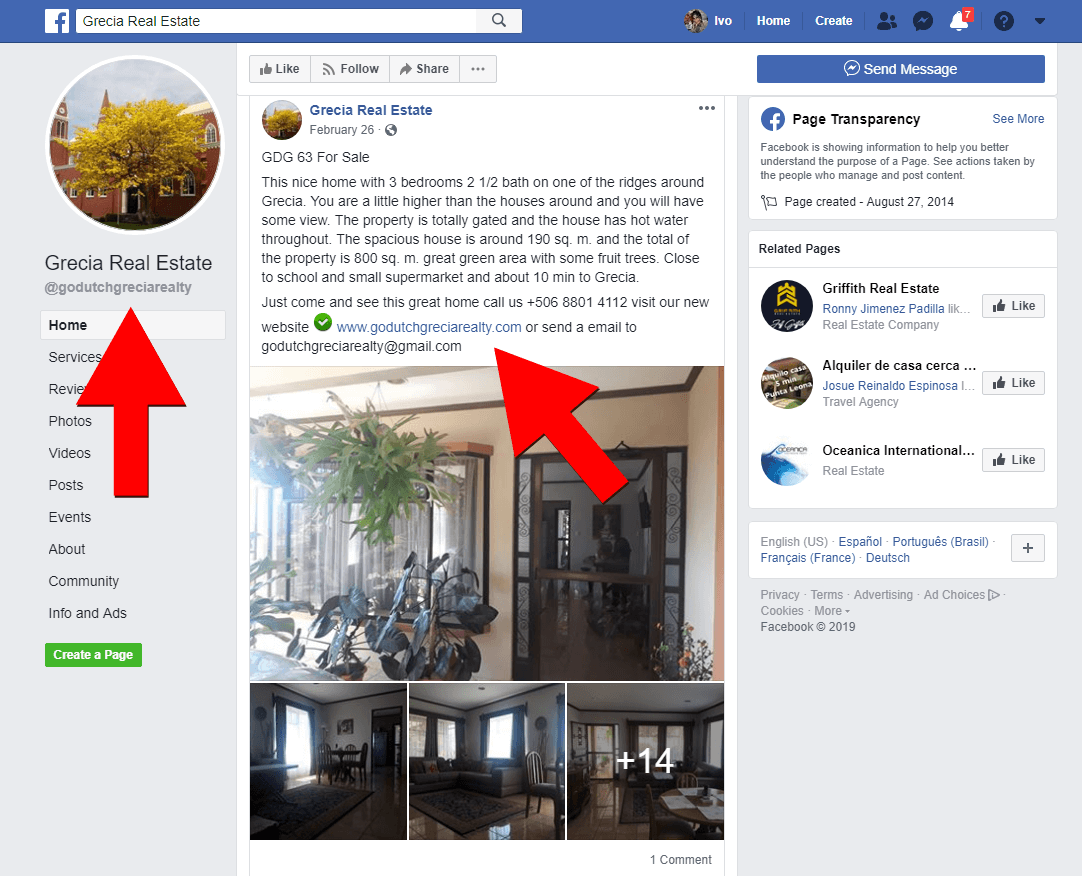 Rentals
If you're looking to rent with GoDutch Realty Grecia, be aware that you might be doing business with the wrong people. Be aware that you cannot communicate with us, the REAL GoDutch Realty through phone number +506 8801 4112! Brooke Bishop's cell phone number is +506 8311 5336 and none other!

Who to deal with?
Do you want to deal with the real GoDutch Realty or with Mr. Chris Schoo of Dutch Grecia Realty? Well, I'll leave the decision to you, the client. Chris Schoo's website recommends to "Go with Dutch Grecia Realty". Obviously, we don't!

Even Today
Even today, Google still shows Mr's Schoo's website with the name GoDutch Realty in the description of his website. having worked so hard to make the identity theft as complete as possible, it's hard to clean up "the mess" afterwards.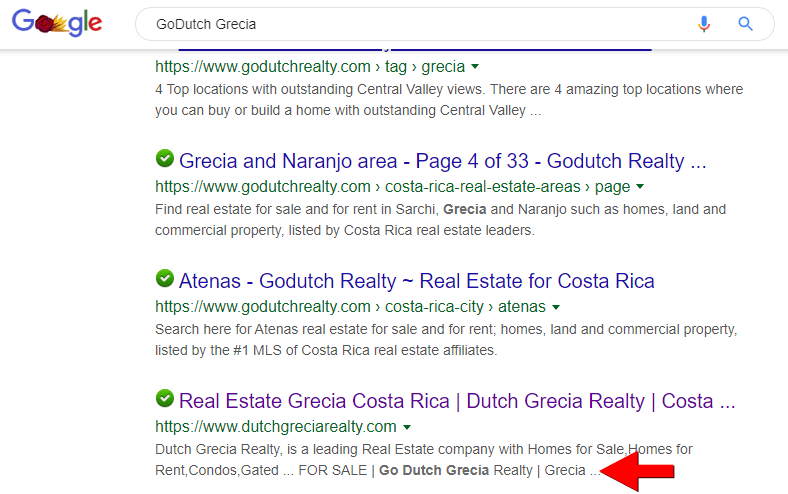 If you haven't done business with us yet, the REAL GoDutch Realty, I invite you to. My invitation is for you to enjoy the ultimate Costa Rica real estate experience and not misinforming our clients. Contact us now.
Do you support us, then share this information with everyone you know on your social media. Thank you!
---
The grammar of the Spanish version of this blog was checked and corrected by Wagner Freer of Spanish School for Residents and Expats. We strongly recommend this language school as your best choice to learn Spanish, click here to contact them. 

---
If you like this blog, subscribe to my newsletter by clicking the banner below.

I DO want to remind our readers that we appreciate any referrals you can send us. Also, when talking about your home in Costa Rica, please remember the GoDutch Realty agents. We appreciate it.