Estimated Reading Time: 5 Minutes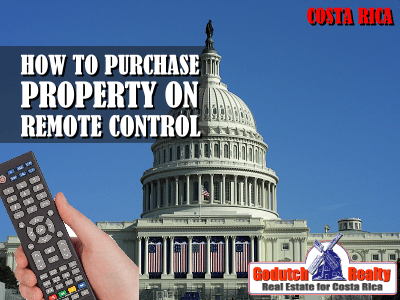 Maybe one day it will be necessary for you to purchase property in Costa Rica on remote control.  One good reason is that the wire from your bank, to pay for the property, needs to be in person.
Most banks will not allow you to just put in a phone call or send an email to send the wire.
Another good reason is that you will want to pack your personal belongings and send them to your new home country. Therefore, it is very well possible that you won't be in Costa Rica for the real estate closing.
Even if you had expected to purchase property before traveling to Costa Rica, you probably did not know the necessary steps of such a decision. So you think you're in limbo, but you're not.
Maybe you didn't know, but it's not absolutely necessary for you to be in Costa Rica to close on your property. Of course, we prefer you've seen the property in Costa Rica before you decide to purchase. To my opinion, purchasing a property in another country sight unseen is outright irresponsible. Once you have seen the property, you need to make an offer and go through the purchase process if the offer is accepted by the seller. Are you going to wait in your hotel to go through this process, or will your life go on as usual meanwhile?
Is it easy to purchase property in Costa Rica on remote control? Yes, it is, if you know how to.
Real estate agent
First, pick the right real estate agent. One who has the necessary experience and knows how to walk you through all the steps of the property search, making an offer, and wrapping up the deal. And, do not forget the home inspection, finding a real estate attorney, and doing the final walk-through.
You want your real estate agent to be familiar with the area where you plan to purchase property in Costa Rica. So you will be connected with doctors, dentists, plumbers, handymen, and all the people who can make your life in Costa Rica easier or miserable.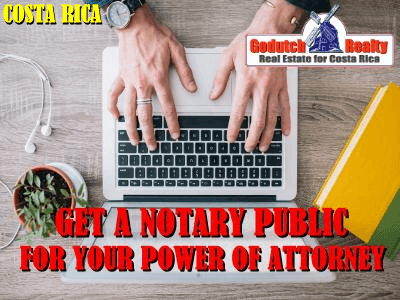 Real estate lawyer
In 2016, over 2,000 new lawyers have incorporated into the Costa Rica bar association. We have lawyers coming out of our ears. Do your research before you hire an attorney:
Hire a notary public, not just any lawyer. A notary public has a protocol and can do a power of attorney as well as legally transfer property.
The notary public you hire should specialize in real estate. Don't hire a divorce lawyer or some other specialty that doesn't have anything to do with the property.
You probably want to be able to speak to the notary public in English, if that is the language that you feel comfortable in. So hire one who is fully bilingual.
This notary public should have an escrow account or use an escrow company.
Meet the attorney/notary public in person and see if you feel comfortable with your choice.
Escrow
Opening a bank account and wiring the funds needed to purchase property in Costa Rica used to be easy. Those times are over and to open a bank account you need to be either a resident or a citizen. Money laundering laws have made things quite difficult when you're talking about more than $10K. A few years ago, you could just pick up the phone, call your bank and ask them to wire any amount of money to your account in Costa Rica. That is not possible anymore.  You could open a simplified bank account but you won't be allowed to send funds for a property purchase to that account.
What is the solution? Find a real estate attorney who has an escrow account and wires the money there. You can do this on remote control. The escrow agent will oblige you to go through some formalities. But it is easy to do, as long as your funds are legitimate.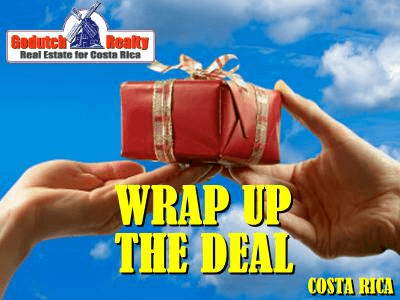 Power of attorney
It is possible, to leave a power of attorney to purchase in your name, with your attorney. Your attorney can describe all the details in the document. So nothing else can be done with your money, only to purchase the property you indicate. You can describe the property, the amount negotiated, who you give the power of attorney to, and any other details.
If you are already out of the country, use the Costa Rican consulate nearest to your location to register this power of attorney.
When using a Costa Rican attorney for this special power of attorney, use one that comes well recommended.
You will be surprised by how easy it is to purchase property on remote control. Make sure to hire the right real estate company that functions as a well-oiled machine. Contact us when you are ready to buy and looking for professional assistance.
---
If you like this blog, subscribe to my newsletter by clicking the banner below.

I DO want to remind our readers that we appreciate any referrals you can send us. Also, when talking about your home in Costa Rica, please remember the GoDutch Realty agents. We appreciate it.