Estimated Reading Time: 6 Minutes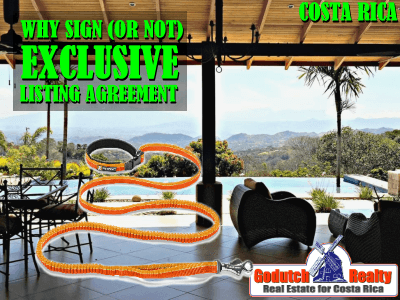 You could end up on a leash if you sign an exclusive listing agreement without having read this blog first.
Property sellers should be aware of the advantages and disadvantages of signing an exclusive listing contract with a realtor.
You should be aware of what this contract obliges you to. Find out now, before you sign ANY property listing contract.
A very important issue is when the listing agreement expires. Also, check if the contract has an automatic renewal when it expires. Before you sign anything, you should understand a bit more about the Costa Rica real estate market. Learn more about the exposure that some real estate offices promise when you sign their exclusive listing agreement.
Why should you NOT put all your eggs in one basket and sign an exclusive listing agreement? Read on if you want to see the answers.
What's the reason for this blog?
RE/MAX Atenas Best Climate and Properties in Costa Rica try to have you sign an exclusive listing contract. They do that to represent you exclusively in the sale of your property. The RE/MAX exclusive listing agreement AUTOMATICALLY renews for another period. They count on you forgetting to cancel the agreement in time when you are not happy about their job.
We don't have a real Multiple Listing System (MLS) in Costa Rica, so for what reason would realtors try to make you sign an exclusive listing agreement with them if you want to sell your Atenas real estate?
Because that way, if any other realtors bring a buyer, they will get paid a 5% real estate commission, for doing absolutely nothing.

7 Good Reasons
7 good reasons why you should NOT sign an exclusive listing agreement
1. In Costa Rica, we do not have a formal MLS, so there are no open houses, flyer boxes, postcard marketing, farming or prospecting, cold calling or other resources crucial to developing leads to sell your property. Therefore, listing your Atenas real estate or property anywhere in Costa Rica exclusively with only one real estate agency gives you no advantages at all.
2. Other real estate agents will ALWAYS first show their own listings and sometimes, if they can get away with it, will NEVER show your property if it is listed by an exclusive agent so they don't have to split the commission with your listing agent.
3. You will never get the exposure you will get when listing your Atenas real estate exclusively as when listing it as an open listing. This means that you can list your property for sale with every real estate agent. An agent who gets paid the full 5% commission is, of course, more motivated to sell your property than one who gets 2.5%.
4. By listing your property for sale as an open listing, you can also sell your property yourself without having to pay any commission to anyone, though using a competent real estate agent has a lot of advantages and less hassle.
5. Most Costa Rica real estate agents do not give you the usual feedback on buyers, amount of visitors, who the visitors were, what they liked and what they did not like about your property. If you sign an exclusive with one realtor, you should receive at least that, which you probably don't.
6. A real estate agent cannot handle more than 10 – 15 exclusive listings and promote the hell out of them to give you as much exposure as possible. In Costa Rica, a typical agent has 150 to 200 listings.
7. If the agent has the possibility to sell another non-exclusive property, without the involvement of another agent, to the client who is also interested in your property at a much higher price (and therefore earning a higher commission), your property will not get the advantage because of your exclusive agreement. So why should you give the agent the advantage?

Too many exclusive listings
There is NO way you and your property can be represented exclusively the way you would like to be. Because the listing system in Costa Rica real estate is an open listing system. Therefore, you should list your property for sale with all the realtors in your town or city.
As an example, RE/MAX Atenas Best Climate has a total of 245 properties for sale, judge for yourself:
109 Atenas homes for sale & surrounding areas
48 rental properties in Atenas
82 land listings in Atenas
6 commercial properties for sale
Properties in Costa Rica, another real estate office, also like to sign you up for an exclusive listing agreement. This company has even more listings on their website. They charge an even higher commission than the usual 5% plus 13% VAT.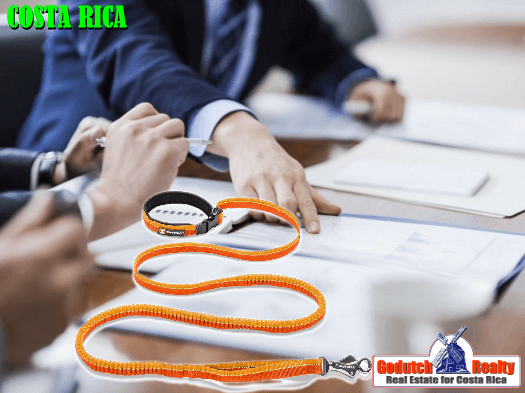 Ask
The 3 big questions you should ask yourself before signing an exclusive listing contract on your Atenas real estate with any real estate agent or company in Costa Rica are:
1. What will the exclusive agent do for me that they won't be doing for any other sellers?
2. Do I get more exposure or less if I sign an exclusive with them?
3. How many advertising dollars will be spent on giving more exposure to my property?
Once you know the answer to those questions, don't hesitate in contacting our Atenas agent Marian Veltman. She will market your property to the best of her and the company's abilities and work with you non-exclusively to sell your property as soon as possible at the most reasonable price she can.
GoDutch Realty does not recommend you sign an exclusive listing agreement with any real estate agent in Costa Rica until there is a formal and well-functioning MLS in place that can give you the necessary exposure to promote the sale of your Atenas real estate.