Estimated Reading Time: 5 Minutes
To a lot of people I know, Costa Rica is hell; they tell me all the time: Hell, it's beautiful here – hell, the food is excellent here – hell, the women are beautiful here – hell, I'm having a great time, Costa Rica is paradise.
Young people and senior citizens come here on vacation and are then sold to the country instantly; they come back again and again until they take the big step: they move to Costa Rica.
People from all over the world retire in Costa Rica. Some love it here, and others don't find that happy life they expected to see. But if you do all the right things, your chances to succeed are much better than if you get off on the wrong foot.
This wrong foot is when it starts going all wrong for you. Unnecessarily, because all the GoDutch Realty agents, as well as expats who already made Costa Rica their paradise, are there to help you. We're here to give you the Ultimate Costa Rica Real Estate Experience, for FREE, at no cost.
So, will it be Costa Rica paradise or hell for you? Find out in this blog how to make it paradise and live happily forever.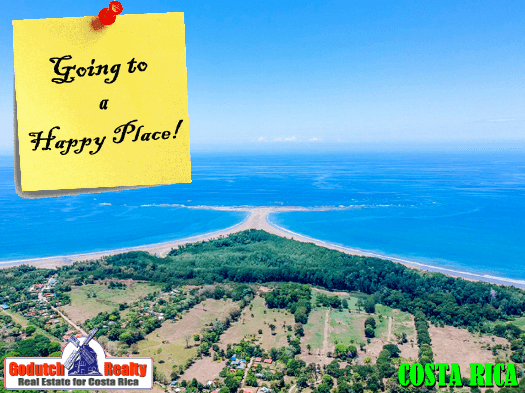 No matter where you live
It's in your power to make your paradise or your hell, no matter where you live. Because of all the advantages that Costa Rica has over most countries globally, there is a reason that the country ended up being the happiest place on the planet for the 2nd year in a row. Isn't that a great start?
It would help if you learned how to use this power, which is why I decided to let other expats tell you what to do to make Costa Rica your paradise or hell. Start with picking the right real estate agent that can give you that ultimate Costa Rica real estate experience.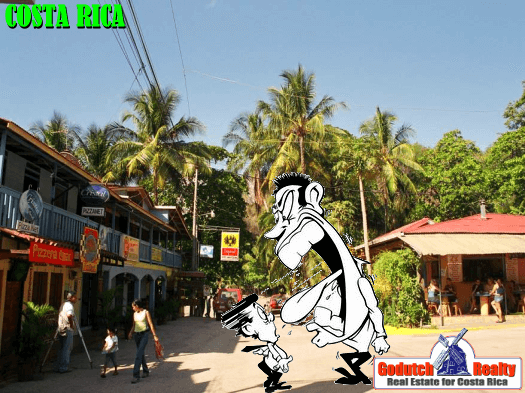 Ignorant and arrogant
You cannot be an ignorant or arrogant foreigner and have much success here. It would be best if you were wise and a little tough on yourself. Trust your instincts. Adapt and learn. Many people arrive with a particular set of expectations and realize too late that Costa Rica is NOT the paradise they thought it would be.
I have taken a few opinions from Costa Rica blogs of people who decided to become expats. These opinions might tell you if you are ready or not for the most significant step in your life.
I'm sure you don't want to be one of those to move back again too soon.
Great feedback
Erin, Arden, Paul, and Nadine have a few comments that you'll like:
Run at the first sign
Costa Rica is too jarring for some people, which came as quite a shock to me. Of course I know there are people who are too fragile to travel or maybe they just lack the desire. I'm talking about people with dreams of traveling who come to Costa Rica and run at the first sign of a different culture. By Erin. 
More challenges and adventures
All of those "qualities" about living in Costa Rica that might be taken as negatives can also be taken simply as part of the challenges and adventures of living in a foreign country. By Arden.
Learn to have a ball
Enjoy the simple things in life, count your cash, get your Social Security, and go where it's cheaper, reinvent yourself and begin a whole new, adventurous phase of your life, scale down, live within your means, and learn to have a ball! Making these choices doesn't have to be a bad thing, nor a sacrifice.

It's a good, positive thing.  We believe that less can be more and we try to live it. We realize that our way is not the way for everyone.  There are as many lifestyles in the world as there are people in it. By Paul.
A big sloth hug
I promised myself I wouldn't judge and to not compare every little thing to the states. And if you walk into an adventure with that mindset, it returns by reaching out and giving you a great big bear hug. Or for Costa Rica purposes…a big sloth hug. It was the best thing I have ever done in my life…and I'm hoping that this adventure sticks for a while!! By Nadine.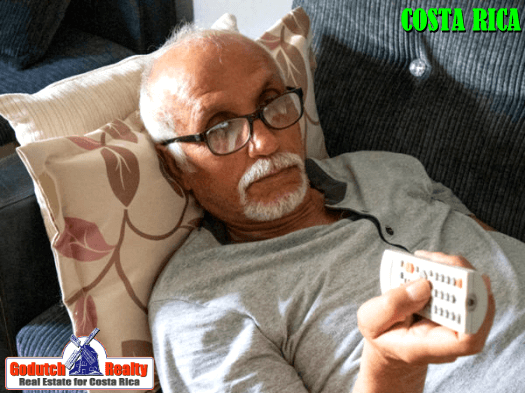 You wouldn't be reading this blog if you were looking for a lifestyle like the couch potato in the picture. The ball is in your court now, and we'll try to help you play it.
Contact us now to look at houses for sale and rent in Costa Rica before moving to Costa Rica.
---
If you like this blog, subscribe to my newsletter by clicking the banner below.

I DO want to remind our readers that we appreciate any referrals you can send us. Also, remember GoDutch Realty when talking about your home in Costa Rica to friends and family. We appreciate it.