Estimated reading time: 5 minutes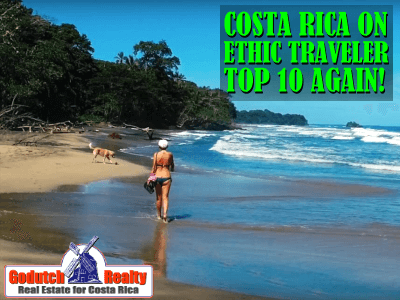 Ethical Traveler keeps supporting countries working to maintain strong environmental, human rights, and eco-tourism values.
This nonprofit organization, Ethical Traveler, started placing Costa Rica in its Top 10 in 2011 of the best ethical destinations worldwide.   Costa Rica did it again in 2012, 2017, 2018, 2019, 2020, and 2021.
Ethical Traveler urges travelers to step off the beaten path. Each year, after extensive research, their team chooses the 10 best countries to visit in the developing world. These countries are rich in natural wonders and alive with a fascinating culture. For instance, they are committed to conserving their natural treasures while building economies that sustain and empower local communities.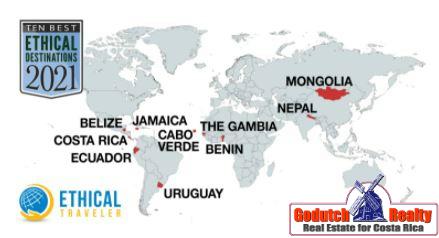 This year 2021, Ethical Traveler, has chosen the following countries as the winners, in alphabetical order (not in order of merit)
Belize
Benin
Cabo Verde
Costa Rica
Ecuador
Jamaica
Mongolia
Nepal
The Gambia
Uruguay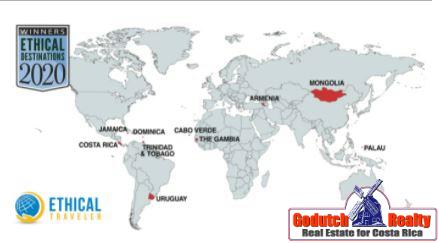 The organization states " the idea of naming the 10 "best" developing countries has its perils. No country in the world is perfect. All the places on our list have both strengths and weaknesses. Still, these are the best of the best. We sincerely hope this list inspires your travels. We also hope that our summary sheds light on the many concerns that every country must tackle to balance best practices with often challenging economic realities."
What is the purpose of the Ethical Traveler?
Ethical Traveler is dedicated to educating travelers about the social and environmental impact of their decisions. It shows how travel can be a potent form of diplomacy, giving travelers a forum through which their united voices can serve the world community.
What do they do?
They raise awareness of the interdependency between travelers and the places they travel to. They are doing this by building a global community of travelers. Over time, the organization provides its members with information on key issues (e.g., coral reef protection, deforestation, women's rights, and forced labor) relevant to the world of tourism. Therefore, they unite travelers' voices with those of other, like-minded organizations.
Their signature work will focus on well-researched campaigns that harness their members' combined actions to promote social justice and environmental conservation.
How is this list is created?
Ethical Traveler conducts every year a study of developing nations to identify the best tourism destinations among them. The research is focussed on three general categories:
Environmental Protection
Social Welfare
Human Rights
For each of these categories, they look at information past and present. For instance, judges understand not only the current state of a country but how it has changed over time. This helps them select countries that are actively improving the state of their people, government, and environment.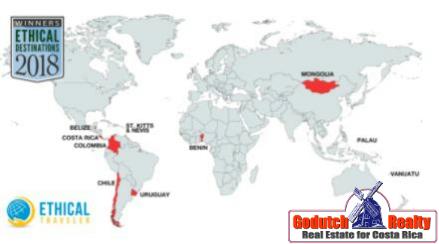 In the first phase of the process, they consider country scores from a variety of databases related to one of the three categories. The organization uses information from sources like Freedom House, the Millennium Challenge Corporation, and the World Bank.
After identifying the top performers, they turn to detailed case research, focusing on actions governments have taken over the year to improve (or in some cases, weaken) practices and circumstances in the countries.
Did you know that Costa Rica receives thousands of new expats who decide to retire in Costa Rica? In conclusion, Costa Rica, although it's not the cheapest country on this planet, is one of the most diverse destinations to visit.
---
If you like this blog, subscribe to my newsletter by clicking the banner below.

I DO want to remind our readers that we appreciate any referrals you can send us. Also, remember GoDutch Realty when talking about your home in Costa Rica to friends and family. We appreciate it.