The pulpería and the polaco are two typical ways of purchasing for Costa Rica's working class.
Every week, "El Polaco" visits a poor neighborhood of Costa Rica, with a car full of merchandise.
The Polaco is a department store on wheels and he sells on credit. He offers mainly clothing, women's, men's, and children's. But he also sells coffeemakers, shoes, perfume, ceiling fans, and anything his clients might need. And if he doesn't carry it, he will get it for them.
It is a pity that so much of the flavor of Costa Rica (and other countries) is disappearing with corporate business. I remember well when we would just walk to the pulperia to get our fresh bread and milk every morning. You can do much of your grocery shopping at the pulpe. We had 4 pulperias on our street and they all made a living.
The Pulperia
Only 35 years ago, before there were any supermarkets in Costa Rica. Locals did their daily shopping for groceries at the pulperia or la pulpe, a grocery store smaller than a 7-11. There, they would purchase on credit and pay on payday. The pulpero (owner of the pulpería) would keep track of what everyone in the neighborhood owed in a notebook.
The Polaco
The Polaco purchases his wares directly from the factory at a good price and then ads his regular profit, as well as interest as his clients, will take weeks to pay for these wares. He keeps track of the money owed to him on a manual card system, which is what I suppose the very first credit card.
Credit
With the growth of supermarkets, pulperias are disappearing fast and with that goes the credit system. It was customary for the middle class of Costa Rica to purchase their daily shopping on credit. That's the reason the pulperias, as well as the Polacos, were in business.
The credit card has taken over most of the middle-class market. The purchasing power of larger companies like Walmart has changed all of this.
But in the poorer neighborhoods of Costa Rica, you will find more Polacos than ever. That's because most of the working calls don't have access to a regular credit card. There are still many pulperias although they don't give any more credit.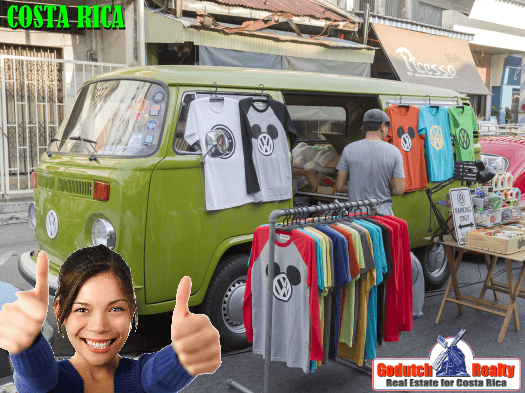 Local Flavor
The Polaco and the pulperia are part of the local flavor in Costa Rica. And that's really the most fun part of living here. When moving to Costa Rica and you decide to live in a small town, you will find lots of customs that your parents or your great parents also had.
You'll find an amazing amount of customs that are long gone from your life. But in Costa Rica, you will still find them in the day to day life.
And that is exactly what Costa Rica has to offer: all that good and fun stuff that has long disappeared up north. You will still find it when living in Costa Rica.
If, at any time, you are looking to purchase or sell Costa Rica real estate, contact us. Only GoDutch Realty can give you "the Ultimate Costa Rica Real Estate Experience".
---
If you like this blog, subscribe to my newsletter by clicking the banner below.

I DO want to remind our readers that we appreciate any referrals you can send us. Also, please remember the GoDutch Realty agents when you talk about your home in Costa Rica, we appreciate it.