Wondering about Costa Rica private hospitals? Lately, I'm seeing a lot of the inside of Costa Rica hospitals. Since I quit smoking 3 years ago, I started going to the doctor. I haven't seen any doctor in my life and now suddenly I need to see all kinds of doctors.
Most doctors in Costa Rica hold office in the same private hospital they operate in. In Costa Rica you don't need to be referred to a specialist, you just make an appointment.
I have never been in a US hospital and the last time I was in a hospital in Europe was like 40 years ago but I hear from many clients that the Costa Rica hospital and medical services are outstanding and that medical services here are on a very high level. Most doctors speak excellent English because they have specialized in the US or in the UK.
Most retirees like to stay close to hospitals, for that reason people buy a condo in Escazu or a home in Atenas. Since I'm in Escazu, I always get a lot of calls from pregnant gringas who live in the Costa Rica beach areas. They're always looking for a short term rental in Escazu, so they're close to the CIMA hospital when they break water. But today, we won't talk about Costa Rica real estate but about private hospitals in Costa Rica.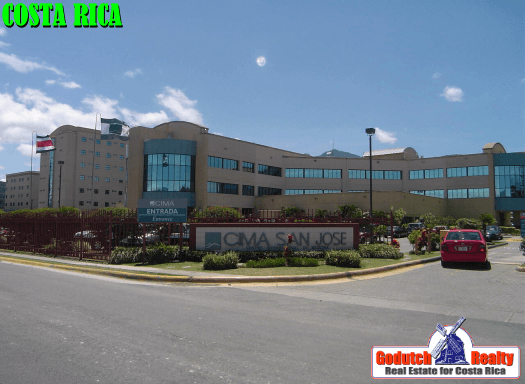 Medical emergencies
If you have a medical emergency, you will be surprised how good the emergency service is in the private hospitals and they do NOT charge you an arm and a leg for attention as you might be used to elsewhere. They DO take all kinds of tests on you when you ask for emergency service, charged at pretty normal rates, to cover any surprises. If you need ambulance services in Costa Rica, we have a separate blog on ambulances.
Medical Insurance and C.C.S.S.
Medical services at the private hospitals are covered by the local insurance company I.N.S. and many international insurance companies. But make sure you find out about your insurance coverage before you ask for attention. I.N.S. even has a pre-approval system with most private hospitals so you only have to cover your deductible. I recommend you contact my agent, Isidro Gonzalez, at your convenience.
If you don't have private medical insurance, you can go to any of the hospitals of the Caja or Caja Costarricense del Seguro Social (CCSS), which are public hospitals, where the government obliges you to pay into as soon as you become a resident in Costa Rica.
Costa Rica private hospitals
CIMA Hospital
The CIMA Hospital is located in Escazu, between Price Mart and Avenida Escazu. The CIMA San José is part of IHC (International Hospital Consortium) in Dallas, Texas and they also have hospitals in Brasil and Mexico.
The CIMA's service is outstanding, in an emergency as well as on the floor. Most doctors are fully bi-lingual and even some nurses are too. The food is much better than average and they have a pretty comfortable sofa bed for sleepover companions. The restaurant in the lobby offers fantastic food and their steak is way over average. I like to go eat lunch there once in a while.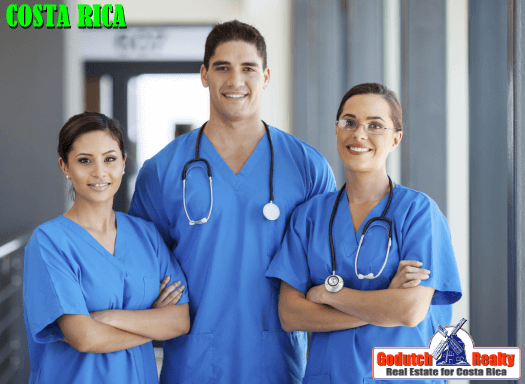 Clinica Biblica
The Clinica Biblica is located downtown San Jose, corner of Avenue 14 and 1st street. They now also have a branch in Santa Ana. 
Their new wing in San José is really nice and well organized, but personally, I don't like the grey-blue paint on the walls. Especially if you're sick and you're a bit down.
Clinica Catolica
The Clinica Católica is located 100 east of the Court in Guadalupe, San Jose. Even though it is for me on the wrong side of town (I live in Escazu), is a new experience. The Clinica Catolica has a Hospital – Hotel. This transforms the hospitalization time into a nice comfortable experience, providing maximum satisfaction to both the patient and their companion. During your stay at the 34-room Hotel La Posada El Convento, the patient will be able to enjoy the availability of medical attention and delicious meals under the supervision of a nutritionist.
Asembis
Asembis is a private health service and they have their own clinics in San José, Guadalupe, Aranjuez, Desamparados, Alajuela, Cartago, Heredia, Liberia, and Guapiles. They're still growing and opening new units. 
Feel free to leave your comments on this blog.
---
If you like this blog, connect with me on Google+ or subscribe to my newsletter by clicking the banner below.

I DO want to remind our readers that we appreciate any referrals you can send us. Please remember the GoDutch Realty agents when you talk about your home in Costa Rica, we appreciate it.