Estimated Reading Time: 5 minutes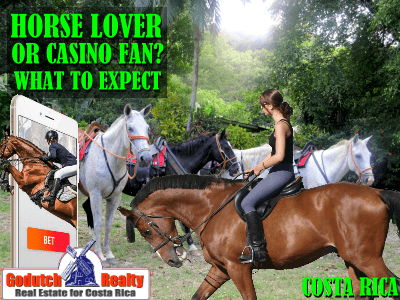 Are you a horse lover or do you love to bet on horse racing? Then Costa Rica has plenty of great options for you.
Not every horse lover can afford to live on a horse farm. For those who do, check out our horse property listings now.
Costa Rica has many attractions for tourists. But what is available for those horse lover visitors who want to get up close to horses or place some bets on them?
The good news is there are plenty of different ways for horse lovers to feel right at home in Costa Rica.
A Horseback Tour
One of the absolute best ways for a horse lover of getting to know the beautiful landscape here is on a horseback tour. This type of trip is available in many of the country's top tourist destinations and gives a unique way of seeing all around you as you get close to its people and traditions.
Horse-riding tours along the North Pacific beach are hugely popular too, with over 20 beaches to ride to. Some tours run for just a few hours while others will give you an overnight stay as part of the package.
You will even find some ranches where your stay will be based around horses. These are ideal for someone who wants an equine-based vacation but maybe a little bit too intense for some others.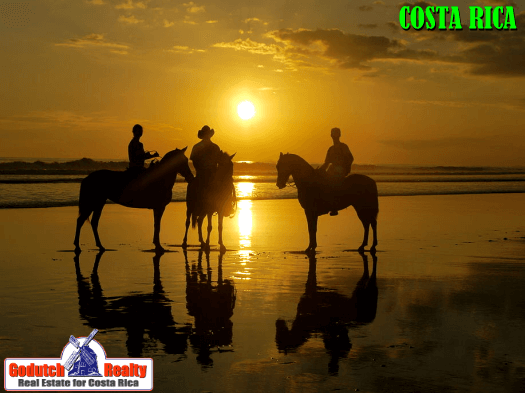 5 Destinations
This beautiful country lends itself for horseback riding through nature, you just have to pick your destination:
Betting on Horse Races
We don't have any racetracks in Costa Rica. The only race track we had was in Santa Ana, next to Forum one, which didn't get past the permitting stage. But don't despair, a horse lover can still place bets at a sports betting site or casino.
Many international betting sites can be used here, meaning that you can bet on races from all over the planet. Whether you want to put your stake on the Kentucky Derby, the Cheltenham Gold Cup, or the Victoria Derby, you will be able to do it while you are here.  Just check today's horse racing results by TwinSpires results every day, by using your mobile phone.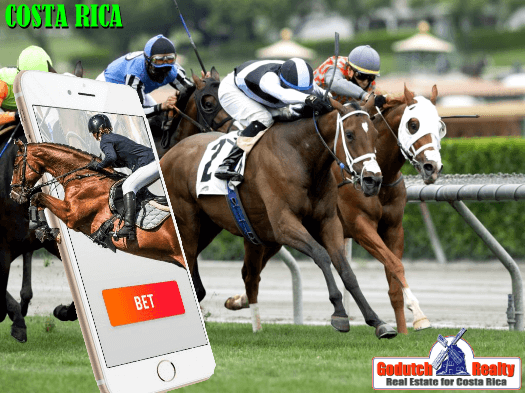 Horse Events
Horses had traditionally held a powerful position in Costa Rican life. Even today, you'll see horses are being used as a means of transportation in rural areas. Guanacaste has the strongest tradition of horse riding, but you will find skilled riders and well-looked-after horses all over the country.
The link to horses in the culture means that many of the local fiestas in Costa Rica are carried out with these animals as one of the main attractions. Horse parades on the streets and exciting shows of horsemanship are essentials parts of these events and can be the most memorable part of any trip to this country.
Horse parades are known as topes and any rural town in Costa Rica has them. Nonetheless, the most famous horse parade is held in San Jose each year. This is the biggest parade in the country and involves thousands of horses and riders wearing wonderful gear. It is one of the most exciting events of the year for a horse lover. A horse parade is a great excuse to get out and watch the locals enjoy a long-standing tradition.
Bingo
Is playing bingo your thing? The Red Cross in Costa Rica is the only one authorized in the country to hold bingo halls. Any other entity or group that wants to carry out an activity of this type must request your authorization.
Nonetheless, you can play online bingo for real money at onlinebingoaustralia.co at your convenience.
No matter what it is about horses and betting that you love, in Costa Rica, you can have a good time. Just take a moment to consider your options and then make the right decision for a memorable trip. And don't forget: if you're looking for horse property in the Central Valley, contact the experts.
---
If you like this blog, connect with me on Google+ or subscribe to my newsletter by clicking the banner below.

I DO want to remind our readers that we appreciate any referrals you can send us. Please remember the GoDutch Realty agents when you talk about your home in Costa Rica, we appreciate it.