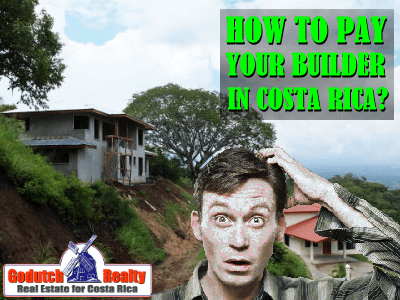 Do you have faith in your home builder? I used to, I thought he was good and honest!
Many home lot owners in Costa Rica, once they are ready to start building, do all the wrong things. That is mostly for lack of experience. Most of us only build one house in a lifetime, or we don't at all.
I sometimes get messages such as "I'm fairly pleased, the home builder did a good job. The only thing is some smaller items are not finished. My only mistake was not withholding some money until the entire house was finished.
The home builder retains one key which is some evidence that he intends to finish. I did have him sign an agreement to build and paid him the entire fee.
Any ideas on getting him to finish would be appreciated but I'm not holding my breath.
Recommending someone
I have a similar experience with clients who built a home in Costa Rica. The last one I got very involved in was an absent owner who wanted to build his house. Our office found a good civil engineer/home builder for the client who bought a home lot in Atenas from us. Nothing is more difficult than to recommend someone to do a job.
But if you sell a home lot and the buyer wants to build, what can you do? You find the home builders that come best recommended and have the most reasonable price.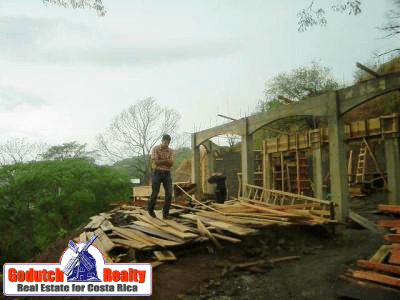 Commission
This was exactly what we did; we screened a lot of Atenas home builders and our clients picked the most recommended one: Civil Engineer Mario Venegas Garita in Atenas. The owner would be absent during the whole construction process of his home. So we agreed to get involved in the whole construction process. In return, our office would receive an agreed on commission out of every payment made to the home builder.
The construction contract
We found a good attorney in Atenas and went through 21 drafts of a construction contract. This process took only 3 weeks to conclude. The contract included an addendum with photos and details of every single finishing material to be used such as doors, doorknobs, locks, window sills, kitchen sink, closet doors, floor tiles, and marble, bathroom tiles, Jacuzzi tub, shower heads, the works. This for sure was not going to be a commission that would be made without spending lots of hours on the computer, visiting the site and being the go-between Mario and our absent buyer.
In the construction contract, we covered every single detail of the construction, including retainer walls, swimming pool, driveway, sidewalks and a VERY detailed description of electrical, water and septic system and the materials to be used and the construction standards that were contracted for.
Parties agreed that the construction would be completed within 12.5 months. The owner would have his home inspector to confirm the different stages of the construction process are done properly before each payment will be made.
Construction Payments
The cost of construction work was going to be paid to the Atenas home builder in the following way:
The first payment of $xxx, with the signature of the agreement;
The second payment of $xxx, once the crown beam is completely done;
Third payment of $xxx, once the house has the concrete floors, the walls with a fine concrete finish and the metal roof installed;
Fourth payment of $xxx, once the ceiling is installed in the whole house, the walls are completely done, the pool walls are done, the sidewalks are ready, pipes in place and at least 50% done on the exterior stone walls;
Fifth payment of $xxx, once the roof gutters are installed and the floors are complete with the ceramic tile or marble, stone walls are completed and pool with equipment installed and functioning;
Last payment of $xxx, will take place once the work is completely finished according to the contract and acceptance by the owner.
Some homeowners prefer to include a large penalty if the targeted time frame is not accomplished but our client didn't mind if the Atenas home builder would be running a bit late. You also have to understand that most construction companies do not have their own working capital, so don't move a finger before the owner of the future home makes the first payment.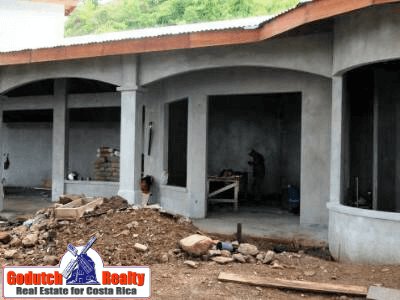 We all thought this was a pretty perfect construction contract and we didn't foresee to be running in huge trouble.
So wrong
We were so WRONG……
Where did it all go wrong? The client decided to advance money before each stage was completed. The client was held hostage by the Atenas home builder, Civil Engineer Mario Venegas, from the second payment on. Mario was using the money to cover other expenses outside my client's construction, so he was running short of money all the time.
On the first home inspection, there were already differences between what was agreed on in the contract and what was delivered. The contractor was taking short cuts. By the 2nd home inspection, Mario wanted to pick a fight with me. He was running seriously short. I didn't even get my agreed on commission with the second payment. But that was my own fault; I should have made sure the owner would be paying me and not the builder. Another lesson learned.
The owner though kept advancing payments so I decided to pull out. Our client was mistreated, I was not getting paid and I saw the disaster coming. I decided to resign and told Mario that eventually I would tell the story and warn others to not use his services as I've done about Joshua ten Brink and his Sonesta One Jaco project.
If Mario decides to sue me, I have all the necessary proof, pictures and witnesses to prove what he has done to his client. So I wish him good luck if he decides to do so.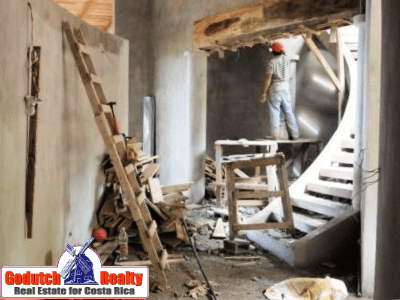 Long story short
A long story short, the house got built, the client ran 20% over budget and has had all kinds of problems after moving in and the home builder made some nice extra money. Those problems eventually all got squared away by other contractors and the house is beautiful.
I certainly hope that you, if you plan to build your own house, no matter if you have bought the home lot from GoDutch Realty or not, do your own due diligence and make sure you do one thing right: do not make advance payments. If your contractor runs short, accept your losses and find another contractor at that time. And please, use a home inspector during the construction phases so the contractor won't take any shortcuts.
Please do NOT think all Atenas home builders are like Mario Venegas, they're not. Many of our clients have not had any problems with their home builder. Just follow the above guidelines and use a home inspector during the construction process and you will be able to enjoy your beautiful Atenas home and Pura Vida!
Planning to purchase a home lot in Atenas or anywhere in the Central Valley? Contact us now.
---
If you like this blog, connect with me on Google+ or subscribe to my newsletter by clicking the banner below.

I DO want to remind our readers that we appreciate any referrals you can send us. Also, when talking about your home in Costa Rica, please remember the GoDutch Realty agents. We appreciate it.