Estimated Reading Time: 6 Minutes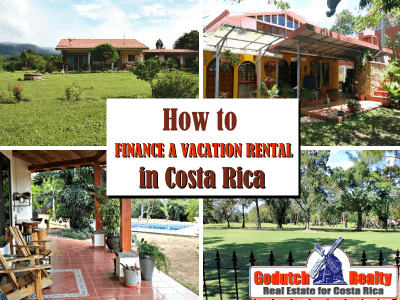 Potential buyers often ask how to finance vacation rental investment in Costa Rica. Owning a vacation home in paradise is a beautiful dream but not always financially possible.
Does having a vacation rental make sense financially or not? You can expect an annual net return of 4 – 6% on a vacation rental investment in Costa Rica.  This is a very important fact that is essential to investing in a vacation rental.
Bank CDs in Costa Rica pay 2 – 2.5% annually. Therefore, investing in a vacation home in Costa Rica can be an interesting venture.
Your goal
First, it is important to decide on your goal. Which group do you think you belong to:
1.       Cash buyers who want to own a vacation home in Costa Rica for their own use primarily,
2.       Cash buyers who want to make a vacation rental investment to generate revenue,
3.       A buyer who wants to purchase a vacation home primarily for their own leisure but needs a mortgage,
4.       A buyer looking to buy a vacation home to generate revenue only but needs a mortgage.
Cash vs. Mortgage
A cash buyer has the advantage that the financials do not necessarily have to generate a positive cash flow. Maintenance costs, HOA fees, advertising, and property management fees come in second place. Maximum enjoyment comes first place. Often this kind of vacation rental investment is made by corporations for client and employee entertainment. Others make this type of investment think about their future retirement.
A mortgage buyer needs to make the financials work in his/her favor. At a 4 – 6% net ROI, you'd be losing money quickly if your operating cost is not covered by your income. For that simple reason, it is important to learn all you can about your options to finance vacation rental investment in Costa Rica before you start looking at property with a real estate agent.
Financing options
Not all financing options might be viable for you. It all starts with whether you are a citizen or a legal resident. Often buyers who need a mortgage in Costa Rica do not realize that you must be a citizen or legal resident to be eligible for a bank mortgage. More about that topic in this article on the MLS. There are a few banks that say they will finance a vacation home for a non-resident. Unfortunately, I have experienced the contrary, so do your homework.
Bank mortgage
Costa Rican banks lend 80% LTV (Loan to Value) on a primary property (where you live) and 70% LTV to finance vacation rental investment property, including a vacation rental investment.
Interest rates go anywhere between 7 – 10% per annum. Rates are usually fixed for the first 2 years and will be adjusted after that every year.
The bank will lend based on the debtor's income, not the future vacation rental income.
Owner financing
Owner or developer financing in Costa Rica is usually at the bank rate level or even a little higher. Developers, particularly, will lend a high LTV at low-interest rates when starting to sell the project. Your risk, as a buyer, can be high, so stipulate future payments in case of the project's failure in the mortgage agreement.
Normal owner and developer financing is 50 – 60% LTV for 2 – 3 years. This loan type might buy you enough time to become a resident and apply for bank financing.
Private financing
Private financing, also called hard money loans, run interest rates between 12 – 18% per annum. This is not a viable avenue to finance vacation rental investment in Costa Rica unless it's needed for a very short term.
Retirement funds
The use of retirement funds is probably the smartest way to finance vacation rental investments if you have access to it. Those who own an IRA or 401(k) can find more information on this topic on the MLS blogs.
Operating expenses
When planning to finance a vacation rental investment, you need to first look at the operating expenses of this investment. The high operating expenses can reduce revenue to the point of turning a purchase into a bad business decision, especially if mortgage payments must be included.

Buying a vacation rental investment
We can assist in your vacation rental investment in the Central Valley:
For a golf vacation rental purchase, contact our golf specialist Shell.
We also have many affiliate agents in all the beach areas of Costa Rica; contact us now for any referrals.