Estimated Reading Time: 6 Minutes
North Americans and Canadians do not need a visa or residency card to enter Costa Rica as a tourist. Most Europeans do not need a visa to enter the country either.
To be able to live legally in Costa Rica, a person of any nationality needs legal residency.
The government divides the tourist visa requirements into two groups. The first is a group of countries whose citizens do NOT need a visa and can visit Costa Rica for up to 90 days.
The second group is a list of countries that their citizens DO need a visa and can visit Costa Rica for only up to 30 days.
Before you make a mistake by traveling to Costa Rica without a visa or overstaying, check the 2016 General Guidelines for entry visas for non-residents by the Directorate General of Migration and Immigration of Costa Rica now.
Renew the tourist visa
There are two ways of extending your visa legally. Lots of perpetual tourists live in Costa Rica permanently. But there are a few rules to follow.
1.       Follow the directions in this document by Immigration. This will only renew your tourist visa for 60 days.
2.       Leave the country for a minimum of 3 days, although the Tico Times has an interesting note on this issue.
Onward ticket
If you don't have a return ticket, the airline is supposed to ask you if you are a resident in Costa Rica before they allow you to board. So, as long as you don't have legal residency, you need to show a ticket out of the country.
If you need only one extension of your return ticket, you can do so with the airline, before the 90 days are over. YOU DO still have to exit the country (border run) to show you've been out of the country. Check on online forums for more information from other expats who do this continuously.
A border run
Thousands of expats who don't want to bother applying for legal residency, do a border run every 90 days. Many do this to stay legal or to be able to use their foreign driving license here. Be aware that this is NOT 3 months, as there are 92 days in three months.
I know some people who get away with having a Tica Bus ticket to show for their onward ticket, but some people get rejected.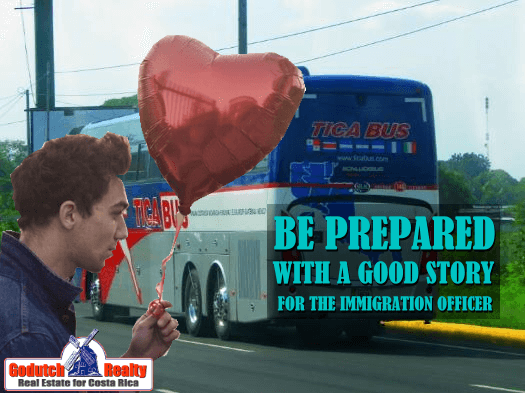 Residency
Doing a border run every so often is a hassle. If you don't want to, get legal residency. These are the 3 most logical ways for an expat to request legal residency.
1. Inversionista.
Buy a property for at least $150,000. Learn more here.
2. Pensionado.
Qualify for the Pensionado program if you have a pension for at least $1,000/month. Learn more here.
3. Rentista.
If you can show for at least $2,500/month fixed income, you can apply for the Rentista category. Learn more here.
Work
If you don't have a permanent residency free of conditions, you are not allowed to work in Costa Rica. Learn all you need to know about working permits now.
Street smarts
I know this really nice guy who has been doing border runs for many years. He has never been able to apply for residency because he doesn't meet the requirements. We'll call him Dennis for this blog's sake.
Dennis has done his border run to Panama for a few years and moved over to Nicaragua because it's easier he says. Here are his tips:
Ticket
The 90-day Tica Bus ticket has always worked for me coming in from NICARAGUA.  The Panama border might be more difficult.  For one thing, to get INTO Panama, the Panamanian authorities DO require that plane ticket back to your HOME country. So I stopped going there. Although I've read that there's a travel agent at the border who can sell you a cheap flight that they can then cancel within 24 hours.
I'm not sure how Tico immigration is when you're coming back in from Panama, but they've always been more of a pain at Paso Canoas. It is probably easier on the Caribbean side. But I gave up on Panama long ago, so I can't say for sure.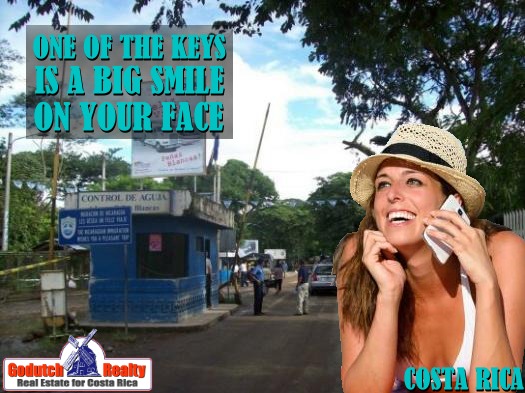 A big smile
Coming into CR from Nicaragua, I think one of the keys is just having a big smile on your face. Try to look halfway presentable. Then show them the bus ticket before they even ask about it (hand them your passport and the ticket at the same time).  They usually see that it's for 90 days out, and they often don't even ask how long I'll be staying in CR.
Be prepared
They will sometimes ask what you'll be doing in CR for 3 months. Or why you've come in and out so often.  So it's good to have some kind of story prepared/rehearsed.  I'm old enough to now say that I'll soon be receiving part of my pension, with which I'll then apply for residency. I tell them that I'm starting to look at houses, etc.  Years ago, I would sometimes say I'm getting a dental implant, which takes several visits. And that there was a problem and they had to order an extra part, etc., etc.  If you talk long enough, they'll just say, "Fine…fine.  Go ahead!".
Of course, I'm fluent in Spanish, so that might not work for everyone.
Money
They say you need to have at least $500 (or a credit card with that much on it). But they've never asked me about that at the CR/Nicaragua border. They did ask one time going INTO Panama.  But I did see them ask two dirty surfer dudes one time.
Exit tax
It's best to buy your exit tax ($7) in San Jose. Like at Servimas in Walmart, etc. I think they now sell them at the Tica Bus terminal. The machines at the border don't work very well.
This free information is our way of inviting you to use our real estate services when needed. Contact us now to rent or to buy a property in Costa Rica.
---
If you like this blog, subscribe to my newsletter by clicking the banner below.

I DO want to remind our readers that we appreciate any referrals you can send us. Also, remember GoDutch Realty when talking about your home in Costa Rica to friends and family. We appreciate it.