Estimated Reading Time: 5 Minutes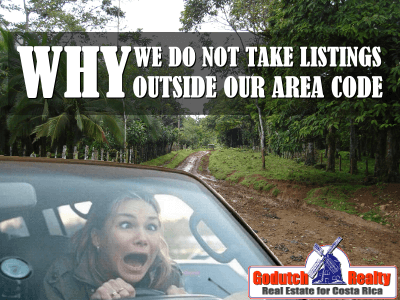 Some property sellers do not understand that we do not take property listings outside our area code.
I decided on this blog because a property seller wanted one of our agents to take a listing outside her area code. Agent Brooke Bishop works in the Grecia area, but lives in Naranjo, west of Grecia. This property seller wanted GoDutch Realty to list his property in Carrillos Bajo de Poas. Poas is a beautiful area but not one covered by Brooke or any of our agents.
Brooke rejected his request because it's a 50 – 60-minute drive to take property listings there, and as long for a showing to interested buyers.
Besides, this is not an area she is very knowledgeable about. Being knowledgeable about the area is a MUST for all GoDutch agents to be able to list a property anywhere.
The seller wasn't very happy about her rejection and emailed me as follows:
Hello Ivo,

I am in total shock with Brooke's reply about the interest in our property. Never before have I experienced this. I have sold 5 properties and a realtor company is not interested in a listing, or even bothering to have a look at it and then decide. I just cannot believe it and your company was recommended to me by a friend of mine in Playa Dominical. 

I just cannot believe this, unbelievable!!!!!!!!!!!    

I will contact another realtor company.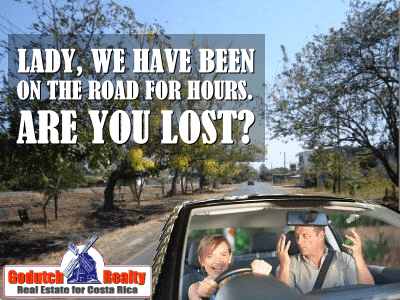 Liberia – Turrialba
Quite some years ago, I had a closing at 9 am in Liberia, so I left Escazu early and arrived before the attorney was there. In the afternoon, I showed a farm in Tres Equis de Turrialba. I was in my own bed by 10:00 pm. Those times were different; this was probably 28 years ago or so. In 1996, we already started the first Costa Rica MLS because we couldn't cover every location without driving for hours.
Traffic
Fast forward 28 years. There is traffic everywhere. Bridges are out of order. A couple of miles on the freeway can take an hour.  Traffic is hell. In these 28 years, the areas we take property listings are getting smaller and smaller. I hardly get out of Escazu anymore. Driving from Santa Ana (a 5-minute drive at 2:00 am) to Escazu takes 20 -30 minutes, depending on the time of the day. We now have 6 agents that cover the same area that I used to cover on my own.
Time is money and wasting gas is expensive. Add the expense of effort to the list and now we have three reasons to be sensible about not taking property listings outside our area code.
Code of Ethics
But it's not all about time, money and gas. See for yourself what for example the NAR Code of Ethics specifies:
When REALTORS® prepare opinions of real property value or price they must:
·         Be knowledgeable about the type of property being valued,
·         Have access to the information and resources necessary to formulate an accurate opinion, and
·         Be familiar with the area where the subject property is located
·         Unless lack of any of these is disclosed to the party requesting the opinion in advance.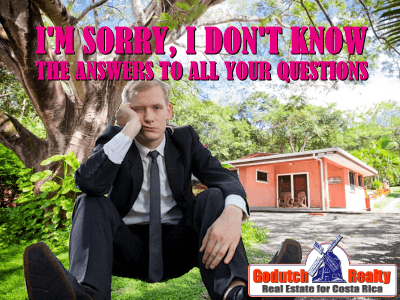 Should I say anymore?
I beg any property seller who would like us to take property listings away from our area code, to use common sense. By listing your property, we're not doing you a favor. Please ask an agent who works in your area.
It is also important to know that all GoDutch agents have the liberty to reject ANY listing, for whatever the reason is. Real estate agents work for free until they close on a purchase – sale and are under no obligation to take property listings if they don't want to.
If you'd like to use a responsible real estate agency in Costa Rica to purchase or sell your property, contact us now.
Feel free to leave your comments on this blog and share this article on your social media.
---
If you like this blog, subscribe to my newsletter by clicking the banner below.

I DO want to remind our readers that we appreciate any referrals you can send us. Also, remember GoDutch Realty when talking about your home in Costa Rica to friends and family. We appreciate it.