Estimated Reading Time: 5 Minutes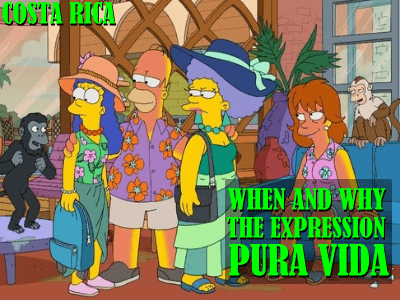 As soon as you arrive in Costa Rica, you'll hear the words, Pura Vida, all the time. Keylor Navas, the famous Costa Rican goalkeeper uses Pura Vida all the time. Costa Rica might be famous for its nature, the beaches, and its coffee, but everyone is learning about Pura Vida.
Many expats and digital nomads are increasingly choosing Costa Rica as their new home. A beautiful country in the middle of the Caribbean Sea and the Pacific Ocean, newcomers are attracted to the tropical food, white-sand beaches, and warm weather.
One of the coolest things about its location is that people can watch the sunrise and sunset in one day, all from white-sand beaches. The tropical landscape also means that it offers amazing opportunities for outdoor lovers, like hiking a volcano or scuba diving in two different oceans, as well as exploring the rich wildlife. Costa Rica actually contains 5% of the world's biodiversity.
Poet Ned Nossaman wrote a beautiful Pura Vida poem that you should enjoy.
But what makes them stay and fall in love with this country is the spirit that animates the new community they live in Pura Vida. The literal translation in English is "Pure Life", although some writers also use "Simple Life."
The meaning behind Pura Vida
Ask thirty different people where Pura Vida comes from and you will get thirty different answers. No one really knows where it originates.
The term became widely used after the release of the movie ¡Pura Vida! in 1956. The movie is about a man who retains his positive attitude despite his misadventures. It was then passed on to the new generations and has become an integral part of the Costa Rican culture.
From your first day onwards, you will hear Pura Vida everywhere. Locals use it in different situations to say that they are doing well or as an exclamation. For instance, if you tell your friends that you've been promoted at work they will answer you "Pura Vida." In this case, it's more of an encouragement, like "awesome" or "congratulations" in English. You could also say it to say "you're welcome" or "no worries".
Similarly, you can also hear it after hearing the terrible news. It's a way to reduce the pressure from a bad situation, like "That's life" or "C'est la vie" in French. If one day you can't connect properly to the internet, for example, don't be surprised if someone says Pura Vida. It's about dismissing little problems and accepting that people cannot control everything.
Costa Ricans or "Ticos" as they like to call themselves, are known to be warm and chilled people. Their attitude is fuelled by Pura Vida. They use all the time in their greetings, to answer questions, or express their happiness. They transpire joy and positivity, which is probably the reason so many people love Costa Rican culture and its sense of community.
The Simpsons
Even Marge Simpson now knows what Pura Vida means. The Simpson family visited Costa Rica in The Simpsons Arrive In Paradise | Season 31 Ep. 7.
A way of living adored by expats
Pura Vida has become a philosophy, a way of living that has seduced many expats who lived in the country. The deeper meaning refers to being thankful for what you have, having a positive attitude, and enjoying life.
According to American travel writer Kathleen Evans, Pura Vida is deeply embedded in the Costa Rican identity, as a nation: "Costa Rica runs deep in the beauty of its people, culture, and landscape," she said.
She identified so much with Pura Vida that she made Costa Rica her home. Kathleen built her career as a travel writer and influencer in Tamarindo, in the North-West of Costa Rica.
Because the term is used in so many different settings, it's probably the reason why it's so hard to find one "official" definition. Pura Vida is more of a mindset and a way of living, although everyone uses the word in Costa Rica.
Nothing but life
John Michael Arthur, an American expat who moved to Costa Rica a couple of years ago found that literal translation reduces the deeper meaning of the term. A more accurate translation of Pura Vida is "Nothing But Life."  It's about enjoying the present life, in all the good and bad moments.
It is an interesting philosophy of life, that greatly differs from the Western capitalist mindset, and is probably the reason locals and expats love this country so much.
This lifestyle may surprise you at first and maybe will never fully convince you. But however you take it – as a word or a way of living – Pura Vida will bring more positivity to yourself and other people's lives.
---
If you like this blog, subscribe to my newsletter by clicking the banner below.

I DO want to remind our readers that we appreciate any referrals you can send us. Also, when talking about your home in Costa Rica, please remember the GoDutch Realty agents. We appreciate it.