Estimated Reading Time: 5 Minutes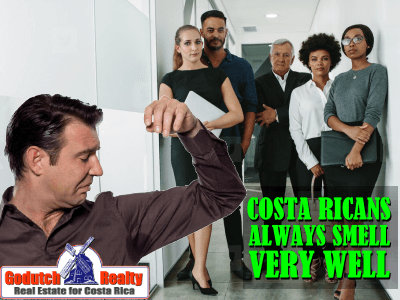 Costa Ricans smell good, at any time of the day. Costa Rican men and women alike, always smell good, as opposed to some other varieties of humans.
Now, you will probably say that you always smell good too and that you're not a Costa Rican. That means you've either been living in Costa Rica long enough to learn the art of bathing or you have a sinus problem. So you already know how it feels to be chaineado.
You might say this is a weird topic, but feel free to spend some time at the International Airport Juan Santamaría and walk past the lines of people waiting to check in on a flight to Europe. You'll quickly find out how some travelers smell after a 3-week vacation in tropical Costa Rica wearing the same clothing every day.
I just got back from visiting my mom in Holland. We're walking through this small grocery store in the seaport of Zeebrugge, Belgium. We are all dying to purchase some Belgian waffles and chocolate as well as some fruit for the waffles. There is this man in the vegetable and fruit department, taking his time to find the fruit to his liking. The man smelled like he'd not seen a shower in the last week or so.
Mom, Dany, and I quickly walked through to the other end of the store. When we turned a corner …… it was breathtaking but literally breathtaking.  We couldn't breathe; we almost died there and then. The man standing in our way had the foul smell on himself that you'll only find on a homeless person. Well, to make a long story short, we didn't die right there.
But we've walked by a lot of people like that man, in Belgium and Holland. I'm glad we didn't go to France, which is where they invented perfume, now we know why!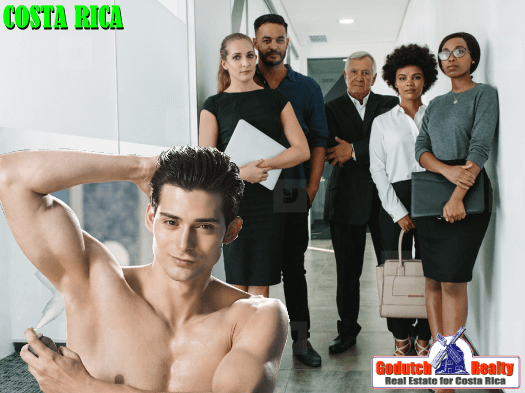 Use deodorant after your shower if you live in Costa Rica
Europeans
I know also a lot of Dutch and Belgians who smell well, just so you don't think they're all barbarians over there, but it's all a matter of different customs and the cold weather seems to do smelly things to people. Many Europeans seem to bathe at night, not in the morning and not all use deodorant. Apart from all that, customarily they use the same clothing for several days, even their underwear.
Now, place that same situation in a tropical country, where there is no way to stay out of the sun for long and where some parts of the country have 80% humidity in the air. What do you get? Bingo! A person who smells bad.
Once you move to Costa Rica, most of us figure out quite soon how to smell good. And if not, the locals will find a way of telling you pretty fast. I had a Dutch guy working for me 25 years ago and the girls in the office showed the guy within a week how things function here and made sure he smelled well from then on.
Bathrooms
You will find that most homes in Costa Rica have at least 2.5 bathrooms and many even more. I grew up in a house with 1.5 bathrooms and most Dutch I've known would take a shower at night and not in the morning, or sometimes only twice a week. A guy in my class in high school lived in a house downtown and they only had a toilet at home. He and his family would go to the bathhouse on Saturdays.
Bathing is important in Costa Rica, which is why most homes have nice bathrooms. Costa Ricans take a shower in the morning, before going to work. Many do so again when they come home or before going to bed. In the beach areas, most take several showers a day. Men and women alike, use perfume freely because they like to smell well. AND they change all their clothing EVERY DAY. In some beach areas, you will see local women, especially if they're overweight, with talcum all over themselves.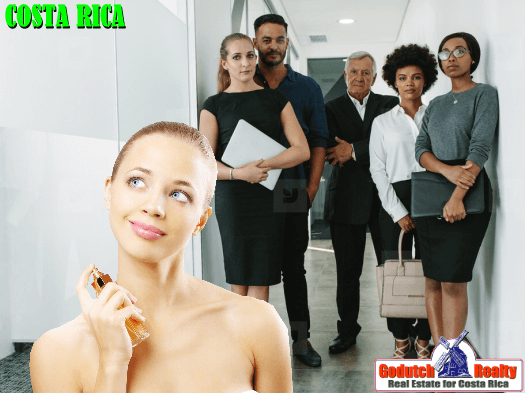 Use perfume after bathing in Costa Rica
Contact us
When looking for a home for sale in Costa Rica, call us. We'll make sure we show you houses that have such a nice bathroom, you'll be happy to spend some time in them.
I've written quite a few blogs about how to adjust to the local culture.  certainly hope that no matter where you came from, you make sure you smell good. In such a way, you will be accepted easily by the local population when you start living in Costa Rica.
If you do, contact me now.
---
If you like this blog, subscribe to my newsletter by clicking the banner below.

I DO want to remind our readers that we appreciate any referrals you can send us. Also, when talking about your home in Costa Rica, please remember the GoDutch Realty agents. We appreciate it.