Estimated Reading Time: 6 Minutes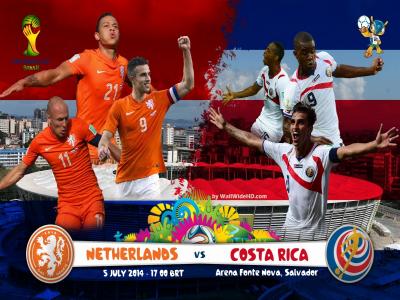 Costa Rica lost the soccer game against The Netherlands! But the Ticos are still happy!
But, it is no wonder Costa Rica is the happiest country in the world because the country has the highest life satisfaction in the world.
Even when they lost the soccer game against the Netherlands in the quarter-finals of the world cup Brasil 2014, the Ticos hit the streets after the game. They will be partying until they drop.
I started writing this blog before the exciting soccer game Holland – Costa Rica and just had to re-write it as I never expected Costa Rica to lose by penalties. Costa Rica again played 120 minutes without receiving one goal. They lost by penalties…but they're still heroes.
I know, many of you are more into American Football, Baseball, Basketball, or Hockey. But if you want to live in Costa Rica, you should know that soccer is more important than religion. And you should learn to enjoy and be happy even when you lose the most important game in your life. Ticos know how to do that.
In this blog, I'll post some photos that show how happy they can be after losing a soccer game during a world championship!
Rooting for
Someone wrote me an email last week, saying "Next Saturday is bound to be conflicted for you at the World Cup. Are you going to root for your beloved adopted country or your native one? Or are you going to hide in the bedroom until it's all over?"
As most of you know, I am born and raised in Holland and moved to Costa Rica in 1980. Though I still carry a Dutch passport, I am "Tico de corazón". This means that my heart is Costa Rican. My wife and children are Ticos, the language I speak at home is Spanish and I call Costa Rica my home.
When I visit Holland, I am just another tourist and some even dare to say my Dutch sounds strange and is not "current".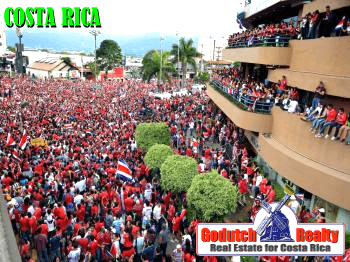 Soccer is Important
Two weeks ago, I wrote a blog about Ticos having pasta for breakfast. That blog tells you how important soccer is in the local culture. Costa Rica pulled the worst group: D, which was also called the group of death. Because the Costa Rican national soccer team won against the Italian National team, Costa Rica has ended first in their group.
All teams on that group, except Costa Rica, were all former world champions: Uruguay, England as well as Italy. Next to play against was Greece. Now Costa Rica won by penalties. The next game was against the Netherlands.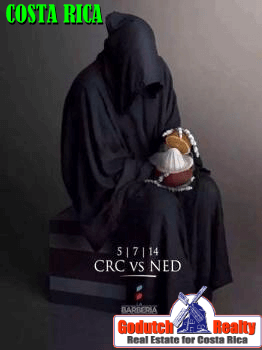 Feel at Home
Most people do not understand what one gets to feel for a new home country if you adjust as I do. So here is the answer to "who do you root for"?
Once you decide to emigrate from your home country, the new country is now your home country. That's my opinion. That decision is to adjust as well as you can to your new country, its habits, customs, language, and people. I have written many blogs about it before.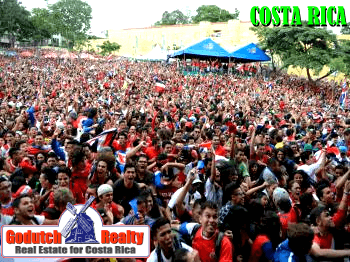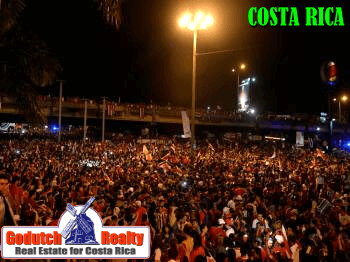 The Ticos hit the streets and will be partying until they drop
Tico de Corazon
The King of Holland might take my passport away from me if he finds out I rooted for Costa Rica. But I don't care. I'm Dutch by birth but Tico de Corazon!! The Costa Rican national soccer selection can be proud of what they did.
It's a real pity that coach Pinto had a fall-out with the team and the Fedefutbol after the world championship. BUT, goalkeeper Keylor Navas was hired by no one else but Real Madrid!
I will have to flip the switch and become Dutch again. Because this time, I want to be a world champion. But Costa Rica will have another chance again, I promise!
---
If you like this blog, subscribe to my newsletter by clicking the banner below.

I DO want to remind our readers that we appreciate any referrals you can send us. Also, remember GoDutch Realty when talking about your home in Costa Rica to friends and family. We appreciate it.