Estimated Reading Time: 6 Minutes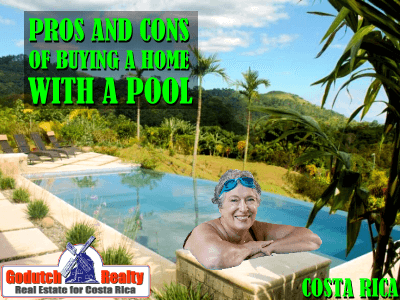 Don't we all love a house with pool? So why not have sexy thoughts about buying a house in Costa Rica? With a pool maybe?
I always recommend our agents use a swimming pool photo as the first listing photo for promotion. Especially if there is a great view in the background. That is because it appeals to the imagination and they look sexy, depending on who is in it.
I remember those years of having to live in harsh winters and looking at an inviting photo of a house with a swimming pool with a gazebo or "rancho", and wishing I'd be able to live in a place like that. It doesn't matter if you like to swim or not, it's just a great appetizer and the reason I used the words "sexy thoughts" in the title of this article.
Now you've decided yo move ahead in buying a house in Costa Rica and away from those harsh winters. But you're not sure if you should buy a house with or without a swimming pool?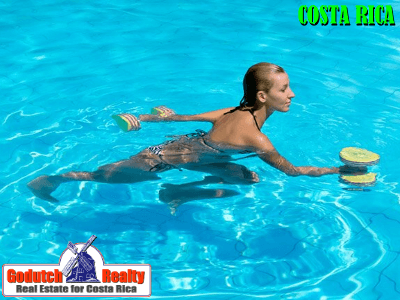 Size
Many houses for sale in Atenas, for example, have a pool. Some are small, more like a plunge pool, and barely large enough to get wet. I do realize that most of the buyers of a house in Atenas are over 60 years old. The reasons to own a swimming pool would not be the same as a family with smaller children would have. Unless the grandkids will be visiting often.
A pool is not cheap to build, so there is an added cost. Do you want to pay for that added cost? Will you use the pool? What about maintenance? Should you buy a house without a pool and maybe build one later?
Let me show you how sexy the benefits of buying a house in Costa Rica with a swimming pool are. But I will also give you the drawbacks so you can make a more informed decision.
The Benefits
1. Exercise
Even if the pool is small there are numerous ways to exercise in a pool. Such as water aerobics that can be used as water therapy exercises to speed recuperation from surgeries. It also helps gain strength, stamina, and balance for daily activities.
Swimming automatically requires you to reach, stretch, twist, and pull your way through the water. If your swimming pool is small, there are still many ways to do flexibility training with exercises. You can try the snake walk, mountain climbing, butterfly, pool push-up, sitting V, and wall squat.
There are many tools that you can purchase online. There are noodles, splashes, bar floats, aqua joggers, resistance bands, hydro-fit mini cuffs, water weights and others that I never even knew existed.
To get some more ideas, check out this Pinterest with swimming pool exercises.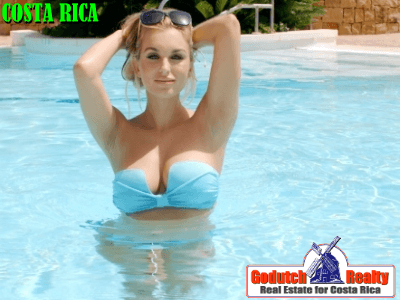 2. Stress relief
I know, you've moved to Costa Rica to get rid of the stress. But believe me, you'll still have plenty of it until you've learned to adapt to the Tico ways of doing things and until you've learned the language. Buying a house in Costa Rica with a pool helps.
You will find that as soon as you submerge yourself in the pool, the water dulls the amount of sensory information that bombards your body. And this, in turn, helps to calm you. So when you're not able to put up with the stress that life in Costa Rica is giving you anymore, jump in the pool!
3. Physical
To gain real physical benefits from a swimming pool, you need one large enough to swim. A lap pool is really the best solution. You will not find many houses in Costa Rica that have a lap pool. So you'd be better off finding a house that has the necessary space to build a lap pool. Swimming will increase your blood circulation, will rehabilitate your muscles, burn calories, and will relieve pain.
3. Recreation
You will be able to enjoy the swimming pool at your Atenas house year-round. It doesn't even have to be heated unlike some other locations in the Central Valley. You can buy all kinds of pool lounge chairs online. From a lounge chair, you'll be able to read a book, watch a movie, listen to music and watch the views.
I haven't seen many pools in Atenas with a bar in it. The danger of having one is that you'll turn yourself in an alcoholic if you use it too often.
4. The looks
The pool just looks good. Sitting on your terrace and enjoy the nature views surrounding your house and see that swimming pool full of water, feels like being on a perpetual vacation. Just having a pool is to have that eternal vacation feel. This kind of pool has the advantage that it can be a small one.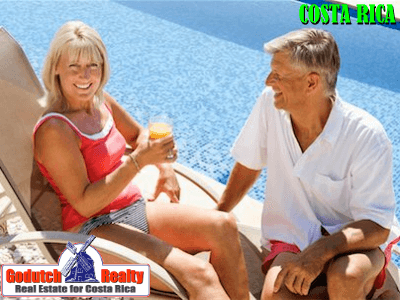 The drawbacks
Maintenance
Honestly, I can only find one drawback of buying a house in Costa Rica with a pool. Besides the cost of installation or construction of the pool. The maintenance of your swimming pool is a drawback, especially if you never plan to use your pool. The maintenance of a pool requires chlorine tablets, sticks, granules or liquid, a PH test-kit and strips, muriatic acid to adjust the PH, shock, and algaecides. You will need to replace filters, valves, pool cover, and pump parts. The upkeep of a swimming pool requires time, chemicals, and pool care knowledge. I found a really interesting website that gives you loads of info about pool sand filters, and what the benefits are of using a sand filter.
DoItYourself
You can probably do most of it yourself though many elect to have it done professionally which is even more expensive. Not only do you have to maintain it when you're at home. The pool needs maintenance when you travel, especially during the rainy season.
I certainly hope this article has been helpful to decide between buying a house in Costa Rica. With or without a swimming pool. Can we count on your business as well as your referrals by telling others in your community about us?
Feel free to contact us to see Costa Rica houses with a pool or without a pool.
---
If you like this blog, subscribe to my newsletter by clicking the banner below.

I DO want to remind our readers that we appreciate any referrals you can send us. Please remember the GoDutch Realty agents when you talk about your home in Costa Rica, we appreciate it.