Estimated Reading Time: 4 Minutes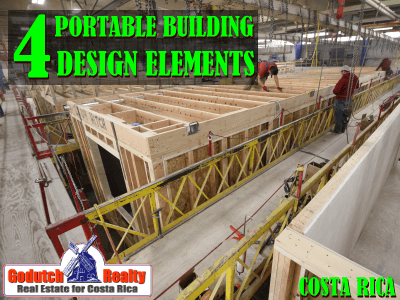 The increasing demand for secure and, budget-friendly housing units has led many people to turn towards portable buildings. It is totally a new concept in the construction industry.
Manufacturers can build these structures in a closed unit and can deliver them to customers in the form of a modular building. Above all, these buildings can be carried from one to place another place easily and are especially beneficial for storage needs.
Of course, at GoDutch Realty, we can offer you an incredible choice of building lots.  The advantage of portable buildings is that you don't need a construction permit to install them on your lot.
These buildings are environment-friendly. In other words, they do not pose any negative impact on the location. By using a hot rolled steel sheet pile, for example, you'll have almost 100% recycled steel content. The only thing you require is enough space at the destination and these buildings provide several benefits to people who want shelter on an immediate basis. The amenities required for these structures come pre-assembled so there is no need for digging or excavation work.
The installation of these portable buildings is easy with the use of a forklift jack and a pallet. They prove cost-effective and offer significant advantages when compared to traditional construction practices.
Portable Structures
Also popularly known as demountable or portable buildings, these structures have a plethora of applications and functional uses. Since these structures can be easily assembled, several industries have already benefited from their use. Visit ADPGroupltd.Com to check out their services regarding buildings and their environment.
Several storage buildings are usually made of aluminum and galvanized steel, which could withstand different vagaries of nature, such as a hurricane, heavy rains, and high-force winds. Whereas, some complex modular structures are made of wood, glass, stone, etc.
Benefits
Below are some striking benefits offered by these modular structures:
Less construction time
No or very little site disruption
Consistent quality
Valuable savings
State-of-the-art facilities
Flexibility of use
Flexible
Manufacturers build modular structures at reasonable costs and project completion in much less time. These structures are just suitable for storing a variety of materials that range from bulky equipment to hazardous materials.
Are you looking for flexible construction as per your specific needs and unique requirements? Then modular buildings are the best option for it. By using modular construction, a manufacturer can build any type of building, may it be a home or office. These buildings offer a high-quality construction combined with an attractive finish.
Design Elements
Below are some important design elements which help in making modular structures, more appealing and reliable one:
1.    Portability – It is one of the important aspects, which prove helpful in increasing the modular structure's score over its traditional counterpart. There are certain times when you need to relocate your house due to one or the other reason. A good thing about modular structures is that you can easily move to another location.
2.    Flexibility – Modular type structures have a great amount of flexibility. Manufacturers build these structures to suit numerous purposes. You can easily set these structures up and adjust beautifully to future extensions or additions.
3.    Space efficiency – We know the design of modular structures to make optimal utilization of space available in an area. Initial designing of these structures is very efficient. If you wish for extensions, the manufacturer can also carry them out at nominal costs.
4.    Eco-friendliness – Modular construction is eco-friendly and is made in a climate-controlled environment, thereby allowing builders to insulate them properly. Further, these buildings are energy-efficient, when compared to regular ones.
Thus, modular type buildings, offer a plethora of benefits and offer the best value for your investment.
The Author
Daniel Clark works with a reputed modular building company. Here in this post, he gives information about how portable buildings are beneficial.
---
If you like this blog, subscribe to my newsletter by clicking the banner below.

I DO want to remind our readers that we appreciate any referrals you can send us. Also, remember GoDutch Realty when talking about your home in Costa Rica to friends and family. We appreciate it.