Estimated Reading Time: 6 Minutes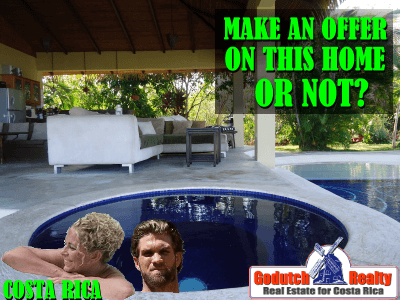 Are we ready now to make an offer on a home? It was on our first day of searching for a Costa Rican home that we found an interesting one.
There were more than a few red flags waving at us if we wanted to make an offer on House #3. While the house was only five years old, it had only had full-time residents for one year since its completion. This home for sale was currently occupied by a caretaker who looked after the home and its small coffee plantation. He slept on a cot in the smallest bedroom and cooked many or most of his meals outside.
The home had been on the market for two years without ever receiving an offer. I imagine that the reason was that there were very large cracks visible on virtually all of its walls. AND there were many loose or missing tiles on its roof. Both of us thought the home was probably $60,000 or more overpriced.
However, we loved the location, the one-acre lot, and the home's grand salon, and the two-wing design. It also provided us with a clean slate to make additions and improvements.
So, we were seriously thinking to make an offer on House #3. Provided there were no structural issues that put the house into a "wouldn't-touch-it-with-a-ten-foot-pole" category.
My wife, on the other hand, was considerably less enthusiastic. Her apprehension was based on a number of justifiable factors. Including the number and cost of repairs, and the cost of improvements and additions required to make it our "dream home". Of course, while still keeping the purchase within our "budget" maximum of $350,000. We both agreed that, if the house was structurally sound, we would only make an offer on the asking price less what it would cost to make the improvements we felt were necessary to bring it up to a marketable standard.
Affordable?
Thus we are leaving enough of our budget to
tackle additions,
improvements,
and other unknown, but certain repairs.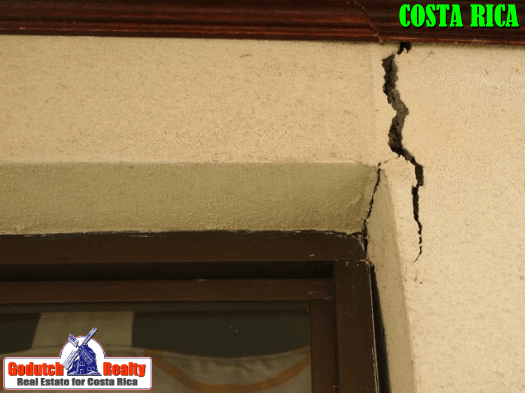 More Doubts
How to discover is we should make an offer at this point was our dilemma. We were not sure whether
it was structurally sound
what is the cost estimate for improving it to "marketability"
and what additional costly repairs and surprises lay hidden beneath its skin.
Ask the realtors
We decided to ask our realtors, Isa Jones, and Brooke Bishop, if they could think of some way to help guarantee that the house was structurally sound and also get an estimate of the improvement costs we felt would make it worthy of the seller's asking price without spending around $400 out of pocket and unrecoverable cost on a home inspection before making an offer.
As is
In Costa Rica, it is typical that homes are sold "as is". The seller individually incurs or splits with the buyer very few costs leading up to the sale. We were all for getting a home inspection, but not before we were quite a bit more comfortable that there were no deal-killing structural issues looming.
Brooke found a local architect and building contractor team that agreed to do a "pre-offer walk-through". They could give us their opinion of whether they saw structural or only cosmetic repairs required. Then they could give us a rough estimate of the cost of making the cosmetic repairs we specified.
This is not a typical request in Costa Rica to make architects and contractors. It took some persuasion on Brooke's part to gain their agreement to
provide their expertise without any assurances that we would if we did purchase the house,
give them the contract for the repairs and improvements.
Identify Repairs
Then the walkthrough took place. It was reasonably thorough. Afterward, we received assurances from both architect and builder that the house, while in need of significant repairs to its walls both inside and out as well as other roof and gutter repairs, was structurally sound.
It's important to understand that Costa Rica sits on a geophysical active volcanic bed and is home to many strong earthquakes. However, homes here when properly built to strong earthquake standards, suffer surprisingly little structural damage from quakes. I have lived through a number of earthquakes as a lifetime California resident. And I have seen the damage to my own home, buying a structurally sound home was the highest priority for me.
The Estimate
We asked the team for the rough quote for identified repairs and improvements. And then we asked them again, and then again. After what seemed like an eternity, we did get a rough, non-binding one-page estimate for
Stripping and 100% re-plastering of all of the walls inside and out,
roof repairs,
demolishing the kitchen island,
replacing the kitchen cabinets
a casita guest house,
a covered terrace,
a carport
the conversion of the garage to a "sala de artesanos" (art studio-craft room),
workshop and storage facility.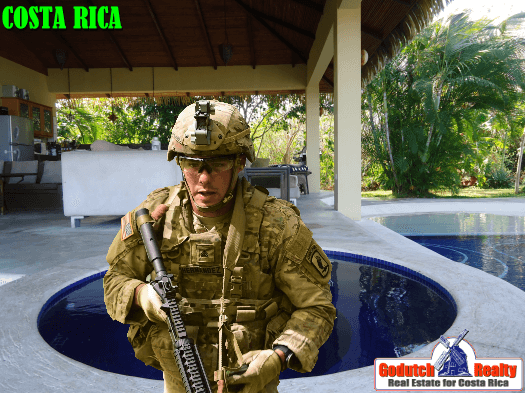 The Decision
The assurances we received from the architect and contractor regarding structural integrity were comforting. The repairs and additions estimate seemed reasonable and within our budget. So, we decided to make an offer. It was about $75,000 below the asking price. The offer had a standard legal contingency language that the deal could be terminated if any major defects or misrepresentations were discovered during the inspection.
Building Inspection
We inquired about a building inspection; for while we had assurances about the home's structural worthiness. There was enough reason for us to question other parts of the home's "bones." There are very few "professional" home inspectors in Costa Rica. Those with qualifications for judging gringo or North American building styles and standards and that also speak English can be counted on less than one hand. We contacted one of the only such inspectors in the Central Valley and contracted to have him do a thorough inspection.
The Author
The author of this blog, Ticonuevo, is a US expat. He and his wife moved to Costa Rica. Of course, they used the services of GoDutch Realty to purchase a property in Costa Rica. In his blogs, Ticonuevo describes his own experiences of taking the step of moving to Costa Rica and getting a new life started.
---
If you like this blog, subscribe to my newsletter by clicking the banner below.

I DO want to remind our readers that we appreciate any referrals you can send us. Also, remember GoDutch Realty when talking about your home in Costa Rica to friends and family. We appreciate it.