Estimated Reading Time: 6 Minutes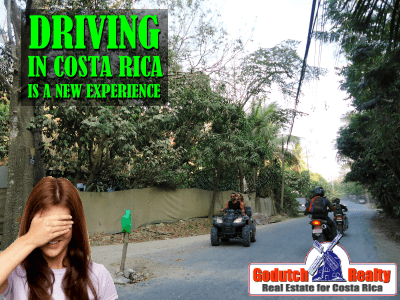 How difficult is driving in Costa Rica? I am now assuming for a minute that you have a valid drivers' license.
The kickback style of Costa Rica's citizens is reflected in the posted speed limits throughout the country. Remember, I said "posted" speed limits. Sometimes, even I find it hard to drive at 25 km per hour. (I don't think my car knows how to run smoothly at that speed). That kind of makes driving in Costa Rica more difficult.
The highest posted speed in this country that I have observed, to date, is 90 km (about 56 mph). It's in one place and only lasts for a few kilometers. However, no matter what road you travel in Costa Rica, you will find yourself behind a bus or a slow-moving, fully loaded truck. Then your speed will be controlled by them.
Speed Control
However, Costa Rica has passed a law to control speed and has installed electronic speed cameras on bridge underpasses along all of the major highways. And, I assume, eventually speed cameras will be present throughout the entire country.
The cameras haven't been turned on yet. But when they are, speeding laws will be enforced by taking a picture of speeding cars' license plates and emailing you a ticket. I guess high-tech law enforcement will finally be coming to Costa Rica and make driving in Costa Rica a lot safer.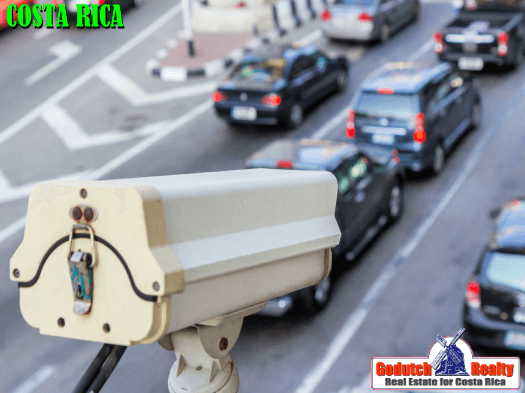 Speeding Fines
In my opinion, traffic speeding fines are excessive when compared to the capita income of the average Costa Rican. The electronic speeding law has not been implemented. But when it actually is turned on, my guess is there will be some very unhappy Costa Ricans — probably almost every driver in this country.
They will be most unhappy at the prospect of actually being ticketed for their speedy driving in Costa Rica, which is pervasive. I fear the driver's displeasure will be expressed rather vociferously in protests and rallies. I know I certainly won't be very happy when it comes.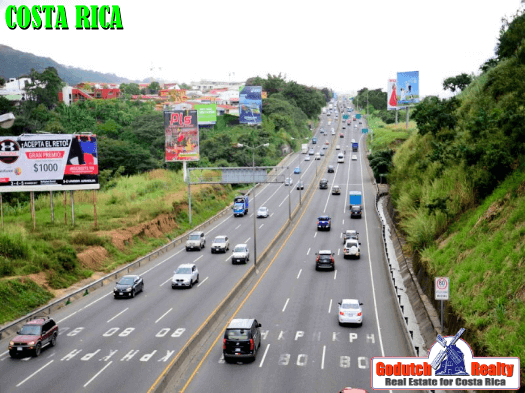 Transit Police
Today all traffic enforcement and vehicle registration is the job of the Policia de Transito. There is no shortage of them and they can be seen on virtually any road in the country. Often, they set up random traffic checks or roadblocks looking for drivers with vehicles with out-of-date registrations. They also patrol the highways and respond to traffic mishaps.
Being stopped by the transit police seems to panic and intimidate some folks. However, we were stopped on a "back road" here during our first vacation in Costa Rica last year. It was no big deal. Maybe, we were fortunate that one of our officers had once lived in our state. We were able to talk in English about familiar places back home while his compadre continued to review our papers to be sure they were in order.
Just be certain that your vehicle's Riteve stickers are current and you carry your current I.D. (passport and/or cedula), car registration, and insurance info. Then you probably won't be hassled while driving in Costa Rica, even if you are stopped.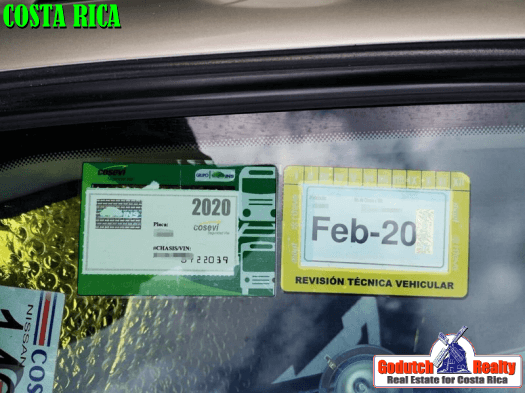 Riteve
Every Costa Rican vehicle on the road carries a "Riteve" sticker on its windshield. The Riteve is your vehicle's registration and inspection. It must pass the mandatory annual safety inspection for the Riteve to be renewed. It must be renewed at the nearest Riteve office before the end of the month clearly displayed on the windshield. There do not appear to be many Riteve inspection offices.
As far as I can discern, there may be only one Riteve inspection office per province. However, you can make your inspection renewal appointment online and the process should be fairly quick and painless. The annual Riteve registration, inspection renewal fee is currently about $40.
Crossing one-lane bridges
I know I've covered this topic before, but I have a new observation or two regarding them. First, they started out as small wooden bridges every time ox carts crossed over rivers or streams. Second, there were lots of ox paths, lots of rivers and streams, and lots of crossings, which means that today there are lots of one-lane bridges. Almost all have a "CEDA" or yield sign on one side or the other.
There seems to be an unwritten law here that states, "if no oncoming traffic is observed, everyone behind the first car crossing on the yielding side gets to cross with him" regardless of how many cars are now stacked up on the right of wayside of the bridge. I'm not saying it is not logical, wrong or even illegal, just be prepared that that's the way it works here.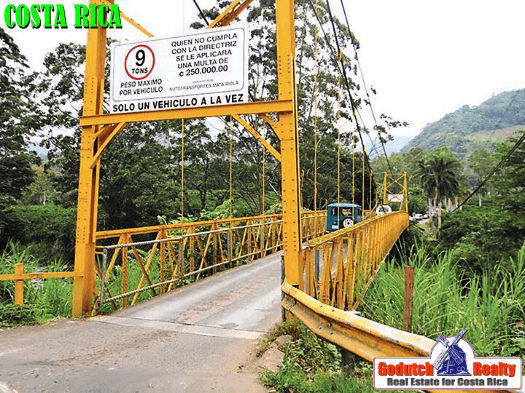 Emergency vehicles
With its lights flashing, the police car waits patiently in the string of vehicles lined up behind the slow-moving truck ahead. What's wrong with this picture? If you live in Costa Rica, nothing.
Pulling over to let emergency vehicles pass is not the law here. People will try when possible. But when you think about it, how can it be mandatory to pull over and let them pass, when most often there is nowhere to pull over.
Stop signs
One last comment: all stop signs in Costa Rica are merely a suggestion. Unless they are complemented by a nearby policeman or oncoming traffic.
The Author
The author of this blog, Ticonuevo, is a US expat who moved to Costa Rica. Ticonuevo and his wife used the services of GoDutch Realty to purchase a property in Costa Rica. In his blogs, Ticonuevo describes his own experiences of taking the step of moving to Costa Rica and getting a new life started.
---