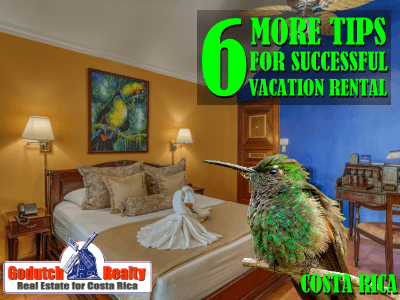 I published the first 3 tips on how to turn your Costa Rica house into a successful vacation rental last week.
My wife and I purchased a house in Costa Rica before we were ready to retire. Now we are trying to cover the cost of the maintenance of the property by renting the property as a successful vacation rental while we are absent owners.
The following tips might be useful to you. This has helped us a lot to get ahead in the game of Costa Rica vacation rentals and generate some nice rental income.
1. Don't try to do it all at once
Be flexible and willing to think outside the box. I remember when we started to rent, how big a task it seemed. What would we do if…?
There are so many things that "could" go wrong…and we were thousands of miles away. In the beginning, we had only our housekeeper. She was recommended by our developer, who also lives in the development. We relied completely on our developer and his very helpful wife as a go-between in dealing with our property. However, they decided to move back to the US, and we had to start to manage everything to keep a successful vacation rental up and running.
It took some time, and arrangements were not as efficient as they would be in North America. For example, neither our housekeeper nor gardener/handyman have a computer. So we communicate indirectly through our housekeeper's daughter. The daughter does not speak English, so we use a web-based translator to communicate with her. It took some time to set up this arrangement, but with patience, it all seems to work fine.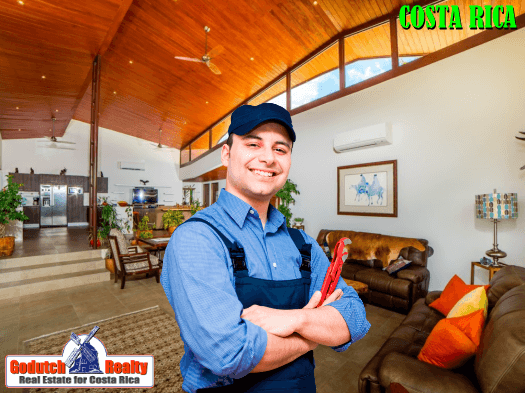 2. Start setting up your processes early
We did not set up the process for a successful vacation rental. Now I wish we had. It took a lot of time and money out of our pockets to get the processes set up. I mean paying all the expenses with no money coming in.
Now I realize I could have been working on making contacts and starting to advertise much earlier than I did. I could have started working on my advertising (on the web) even before I closed on the property. We would have been better prepared with the local team than we were. This would have perhaps improved the purchase process. Issues arose in these steps that could have been addressed before closing when we still had some influence over the seller,
3. Keep working to continually improve your processes
Keep in touch with your team. I also thank them for their efforts  "above and beyond" the norm. For example, when my housekeeper and gardener dealt quickly with the toilet issue mentioned in my other blog, I deposited a small extra in their bank accounts.
If several renters ask about a topic, consider including the information in your web listing, so all potential renters can read it. I have added specific directions to our house and information on internet usage to my site due to renter queries.
4. Get to know your renters as much as possible
This is another suggestion I, myself, need to work on a  bit more. I generally have only been communicating by email with my renters. There, I simply ask for the names and ages of those staying.
It occurs to me that if I took more time to communicate, this could be a potential source of future renters, either through future visits to Costa Rica or by referring others to rent from us. Also, it may help to weed out potential problem renters, which fortunately has not been a problem. Perhaps I've been lucky because I have the right staff for my successful vacation rental.
5. Use all available means of advertising
I have informed other owners in our development that our house is available for rent. When we travel, I let those we come in contact with that our property is available for rent.
I also plan to print up some inexpensive business cards, which we can leave, to make this process even more effective.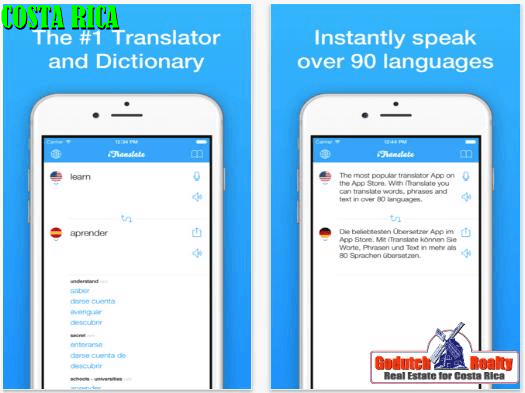 6. Web listing
So far, I have used VRBO to advertise my property. And after a slow start, it yields a satisfactory response rate. I put an advert on another site but removed it when I didn`t like some of their practices. For example, with VRO (former HomeAway), the renter sends the deposit directly to me. This way, I use that money for several months before the rental period.
With the other site, the renter sends the deposit (and all payments) to the website. I only get paid after the rental is over. This makes VRBO much more cost-effective for me to deal with. I will be looking for other websites to advertise on (unless VRBO fills up all my rental time), but carefully check their policies before taking the time to set up with them.
I'm sure many other tips could be helpful. But these six are the ones that have arisen based on my experience. If others occur, as time goes on, I will write another blog. In the meantime, I hope you find these helpful. I wish you well in your adventures with buying and renting a property in Costa Rica. It can be very rewarding, and not just in a financial sense.

We wish you a very successful vacation rental.
The Author
I have named this author John Doe, as he doesn't want the people in his community to know who he is. John bought a property from an International Living real estate developer. When assisting in a Cancun International Living Conference, while washing my hands in the men's room, John asked me, "Are you Ivo? I always read your blogs". So I asked John to write a couple for us. These two blogs and two others are the results of our conversation then. Thanks, John!