Estimated Reading Time: 6 Minutes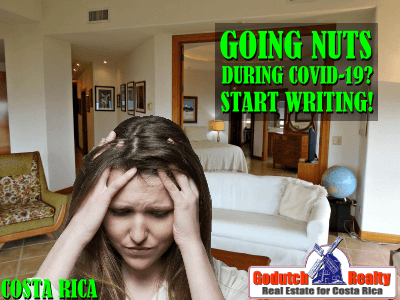 The Covid-19 outbreak obliges some of us to re-invent ourselves and writing articles can be an option.
Do you enjoy writing and do you have lots of interesting information about Costa Rica to share with others? Maybe this is the time to get started. Why?
Link building is an important part of SEO for those who own a website. Most website owners are not good writers themselves and could use your help. In my case, I often receive requests from SEO companies to publish blogs. Their writers are usually from the Philippines or other countries. They write articles based on the information that they find online.
This gig is totally online, so you won't have a restriction on your residency either. Those who are good writers, and have a profound knowledge of Costa Rica, might be able to earn some money. And kill some time while they're not allowed to leave home during the Coronavirus emergency.
I'm not offering you a job. But you'll find more at the end of this blog.
A Form of Art
Writing is an art. Writers approach their work the same way that painters, musicians, and other artists approach their work. Writers have to plan, think about what they will be writing about, borrow from the insight of others, and consider the current trends. A writer also has to be aware of the events surrounding them.
You cannot write articles about Costa Rica without knowing what is happening in the country right now. You have to be up-to-date with information on the country. The first hint of being a good writer is reading. You have to read a lot and see the world from other authors' eyes. This way, you will be able to have a wider perception of the world. Therefore, your writing will grow.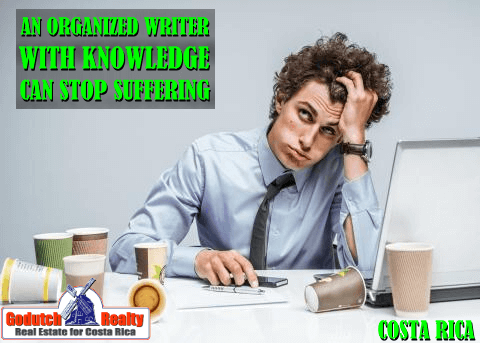 Here are a few tips that will help writing articles about Costa Rica:
Custom Article
Those writers who don't really know how to get started can use an article writing service such as https://customessayorder.com/write-my-essay-for-me.php for professional writing help. As with all new businesses, you need to invest in your business to get it up and running. This platform will have one of their best writers to handle your task.
This application comes with essay prompts that can help you sharpen your writing skills before you start charging for your articles
Tips to improve writing
Assuming you already know how to write articles, there are ways to stand out. Standing out will sell your blogs much better. Here are a few things you need to consider:
Plan what you want to write. Well, you cannot start writing from the conclusion. You need to know a) what you will write about, b) how you will approach the topic at hand, c) what you wish to communicate, d) and the points you will have. Planning also involves research and you have to plan your time well to accomplish this.
Showcase your knowledge and understanding. You cannot succeed in showcasing your knowledge and understanding if you do not conduct your research well. So, you have to show your audience that you know what you are writing about.
Be creative in your writing. Dream and put it on paper.
Adapt your writing style
Well, the truth is that you will find different audiences every time you move out of your comfort zone. You have to be well aware of your audience and understand their traits enough to deliver something that makes it worthwhile for them.
Make use of examples
Do not try to re-invent the wheel. Learn from reading and interacting with other people's work. This means that you have to make use of examples. When you are having trouble finding these, consider help from https://edujungles.com/do-my-essay writing service. Here, you will see how other people approach certain topics. Also, you will learn about structure, and the arrangement of ideas as well.
Intriguing facts about Costa Rica
The biggest advantage of this gig is that you can work from home, and wear your flip flops while doing in. BUT, to write articles about Costa Rica, you have to know a few facts about the country.  Well, in your introduction, you can mention some important information about the country, its inhabitants, and the climate. However, these should not form the gist of your articles. This means that you need to find something new that may not be too obvious for your audience.
For example, you can conduct research on the cultural activities of the Ticos. You can pick one interesting activity and focus your article on it and do not turn it into a cliché. Deliver something that your audience will want to read.
Ideal Article Structure
Untrained writers usually fail to grasp the ideal structure of an article. They often end up delivering articles that do not have a clear introduction, statement, body paragraphs, and conclusion. However, it is better not to despair because you can get help from https://writemyessayforme.co.uk/ in a very short term. This platform can help you when you get stuck with technicalities like an article structure.
Manage your time well
I know you can spend hours writing an article and not get anywhere. Therefore, time management is so important when structuring your article before writing. AND, save what you have written that's being used, for another time.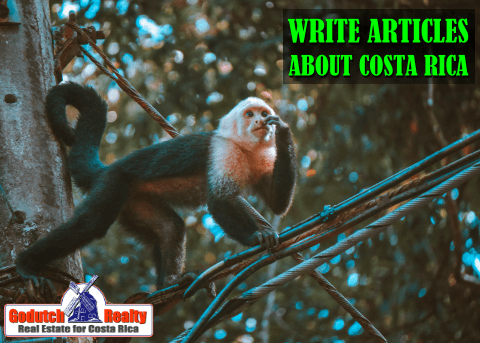 Proofread
To err is human and it is okay to make mistakes. However, do not submit your articles before you take the time to proofread them. Proofreading allows you enough time and space to make corrections and thus deliver something that will appeal to your audience.
How to sell your articles
Writing articles for link building will definitely not make you rich. But it might help pay your basic needs during Covid-19 and past that. Check on Google for your options using "get paid for guest blogging". A good example is 55 Blogs that pay $100+ for Guest posts.
Once you have a few good articles about Costa Rica, get in touch with me. I can connect with SEO companies who need good and interesting articles when they request publications on my websites.
The Author
Kenny Gill is a senior advisor and writer in the department of CustomEssayOrder. He is familiar with corporate events, sports, and education. Kenny is responsible for supporting internal communications needs for specific business functions, as well as writing, creating, and editing various quality content. He performs a leading role in developing and creating good content, chiefly for different types of audiences.
---
If you like this blog, subscribe to my newsletter by clicking the banner below.

I DO want to remind our readers that we appreciate any referrals you can send us. Also, please remember the GoDutch Realty agents when you talk about your home in Costa Rica, we appreciate it.